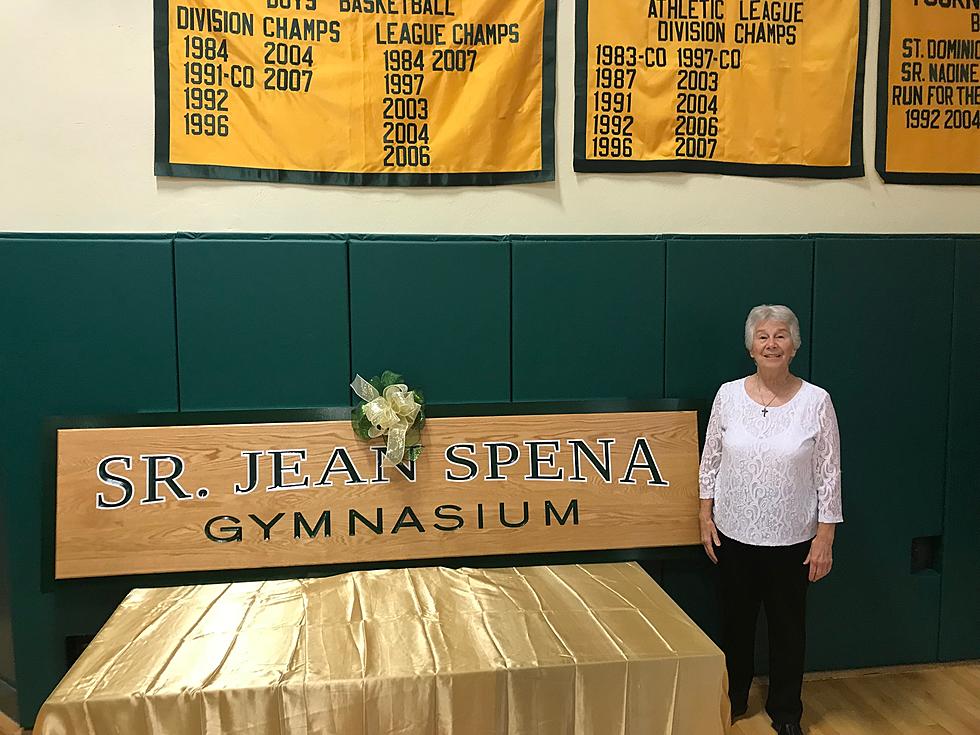 Honoring Sister Jean's Impact
Sister Jean Gymnasium at St. Joseph's School in Toms River (Kevin Williams, Townsquare Media NJ)
How do we measure the impact a person has had on others during the course of their life?
Often it's one of those things that we don't even think about until after that person is no longer with us and it's too late to let them know that they have truly made a difference.  Those at St. Joseph Grade School in Toms River made sure that would not be the case with Sister Jean Spena and more than 300 people turned out Sunday afternoon for the dedication of the school gymnasium in her name.
Sr. Jean was the one who started the physical education and athletic program at the grade school shortly after her arrival in 1971 and before leaving in 2000 would touch the lives of thousands as a teacher and coach.
The ceremony to name the gym in her honor brought out many of them as well as current and former faculty members, parents, rival coaches and even basketball officials who worked her games for years.
I had the pleasure to serve as Master of Ceremonies which included moving tributes from Steve Gepp, the former basketball coach and athletic director at what is now Donovan Catholic High School and Michael Manzo and Jenise DeFillipis Kurtz who represented the hundreds of athletes who called her "coach" during her three decades at the grade school.
There were common themes from those who spoke yesterday. Sr. Jean's willingness to ask others for help, whether it be coaches to plan pre-game strategy or parents to volunteer and help with fundraisers.
More than one talked about her strong beliefs in making sure her boys basketball players knew of the importance of personal hygiene and how to properly serve dinner (from the left) during her famous spaghetti dinners which would often sell out in the cafeteria downstairs from what is now the gym but used to be the parish church until 1994.
Father Scott Shaffer, director of both the grade school and high school and church pastor quoted Billy Graham by saying "a coach will impact more people in one year than the average person will in an entire lifetime."  Clearly Sr. Jean Spena found out Sunday that she has made a positive impact in the lives of many.