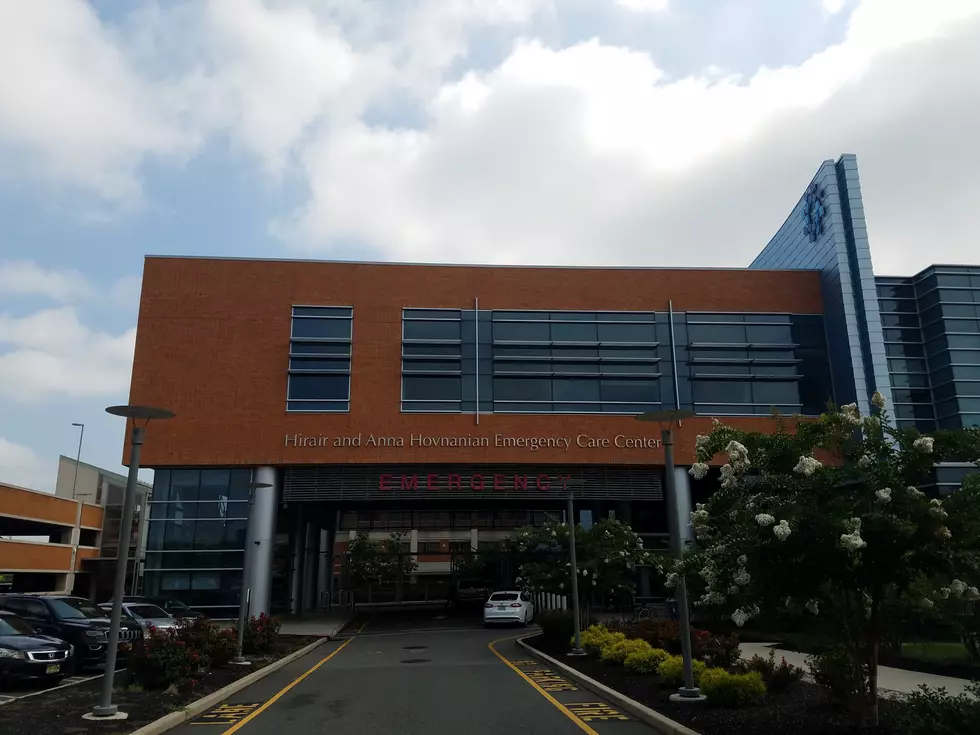 HMH says most workers in network don't have Covid-19 amid reported Ocean Medical Center spike
Emergency Department at Ocean Medical Center in Brick. (Vin Ebenau, Townsquare Media NJ)
The news that more than 100 workers at Ocean Medical Center in Brick tested positive for Covid-19 opened up some eyes across the Jersey Shore and state but Hackensack Meridian Health has provided a response that alleviates some of the concern.
"A story we have seen over and over again since the beginning of the pandemic has played out within our hospital system. More than 100 of our team members are out of work at one hospital after several of our colleagues socialized outside of work and then unknowingly exposed both other colleagues, and patients to COVID-19. We are all human, and working within our hospital – and following our strict guidelines day in and out to great success – can lull us into a false sense of security when we are beyond these walls. What we know better than anyone, is that it only takes one gathering. One lapse of judgement. One event where we are lax in complying with best prevention practices. This scourge of a disease can take one bend of the guidelines – guidelines we know work to protect us – and inflict tremendous impact. We are feeling that now."
Hackensack Meridian Health responded on Tuesday evening clearing up misconceptions being rumored around about the impact of cases had at Ocean Medical Center.
A spokesperson provided a statement to 92.7 WOBM News that most of the network is not Covid positive.
"When you look at our clinical staff across Hackensack Meridian Health network, less than 1.5-percent of our total workforce is currently out of work. "Out of work" is defined as 1) COVID-19 positive cases and 2) those who have symptoms and are undergoing testing. This is a decrease from just a couple of days ago as we see more team members returning to work."
Patient care has not been impacted by the recent case report.
"This has not impacted patient care at Hackensack Meridian Ocean Medial Center or any of our other hospitals, and all medical services are open. We continue to have adequate staffing and follow all rigorous safety protocols established by the CDC and the New Jersey Department of Health. This includes increased daily COVID-19 testing of team members in any of our units with a greater probability or incidence of confirmed cases. Greater surveillance of team members better enables us to identify those who are asymptomatic but test positive and ensure they rest at home."
HMH said they have been taking a number of steps to ensure health and safety for patients and staff.
"Our first priority is to protect the health and well-being of our team members and patients, and we have taken many robust steps to ensure their safety.
Suspending visitation with hospitalized patients, with exceptions for labor and delivery, end-of-life care, pediatrics and adult patients with special needs.
All team members must undergo comprehensive screening, including a temperature check, before working at a hospital or patient care locations.


If there is an issue, the employee is instructed to report to Occupational Health immediately and not come to work.

Patients are tested for COVID-19 on admission and we have begun serial testing any patients that stay for more than two days. This is because patients may initially test negative upon entering the hospital but convert to positive over the next few days from illness acquired in the community.
Team members who test positive are required to self-quarantine at home.
Additionally, the network conducts rigorous contact tracing so that if a team member comes in contact with a team member who is positive, they too must self-quarantine as well.
Intensive cleaning of all facilities including hand-held misters, and UV lighting in all treatment and common areas."
The HMH spokesperson could not comment further regarding how many cases were positive at Ocean Medical Center.
You can follow Vin Ebenau on Twitter and Instagram and email news tips to vin.ebenau@townsquaremedia.com.
More From Townsquare Media Monmouth-Ocean:
Enter your number to get our free mobile app
Things I Am Looking Forward To Doing Post-Quarantine