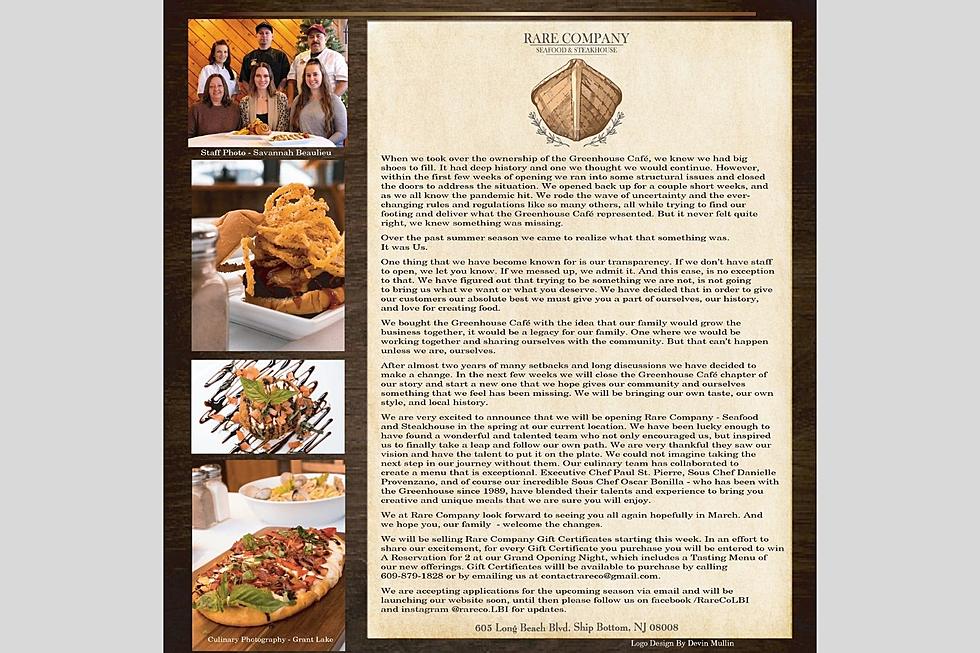 Iconic Ocean County, NJ Restaurant Closes Its Doors for a 'Rare' Upgrade
Photo: Rare Company Facebook
There is no doubt, that times have been tough for many of us during the pandemic.
This holds true for business owners in the restaurant industry.  The owners of The Greenhouse Cafe in Ship Bottom, NJ expressed some of the challenges they faced over the last few years after taking ownership of this historic location.
From structural issues to the pandemic, the restaurant faced adversity, which they knew they could overcome.  How?  By looking within, by wanting to create a brand that is true to their culinary expertise.
They made a big announcement that it was time to close one chapter and open a new one with their business.
According to The Greenhouse Cafe Facebook:
We are very excited to announce that we will be opening Rare Company- Seafood and Steakhouse in the spring at our current location. We have been lucky enough to have found a wonderful and talented team who not only encouraged us, but inspired us to finally take a leap and follow our own path. We are very thankful they saw our vision and have the talent to put it on the plate. We could not imagine taking the next step in our journey without them. Our culinary team has collaborated to create a menu that is exceptional. Executive Chef Paul St. Pierre, Sous Chef Danielle Provenzano, and of course our incredible Sous Chef Oscar Bonilla - who has been with

the Greenhouse since 1989, have blended their talents and experience to bring you creative and unique meals that we are sure you will enjoy.
To get ready for their big rebrand, the Greenhouse will close its doors on December 18th with hopes to see you when they reopen in March.
 'Rare Company' is born.
Look at that mouthwatering steak and lobster tails.  Just a few extraordinary dishes you'll be able to try at the new Rare Company Seafood and Steakhouse
Here was the post that The Greenhouse Cafe shared with their Facebook family about the change, to read in its entirety.
If you're looking for steak, further north?
Steakhouses Monmouth County
Top 10 Restaurants With The Best Steaks In Monmouth County
These are some of the best places to grab a drink in Monmouth County
The 15 Best Monmouth County Bars Perfect To Drink At This Winter