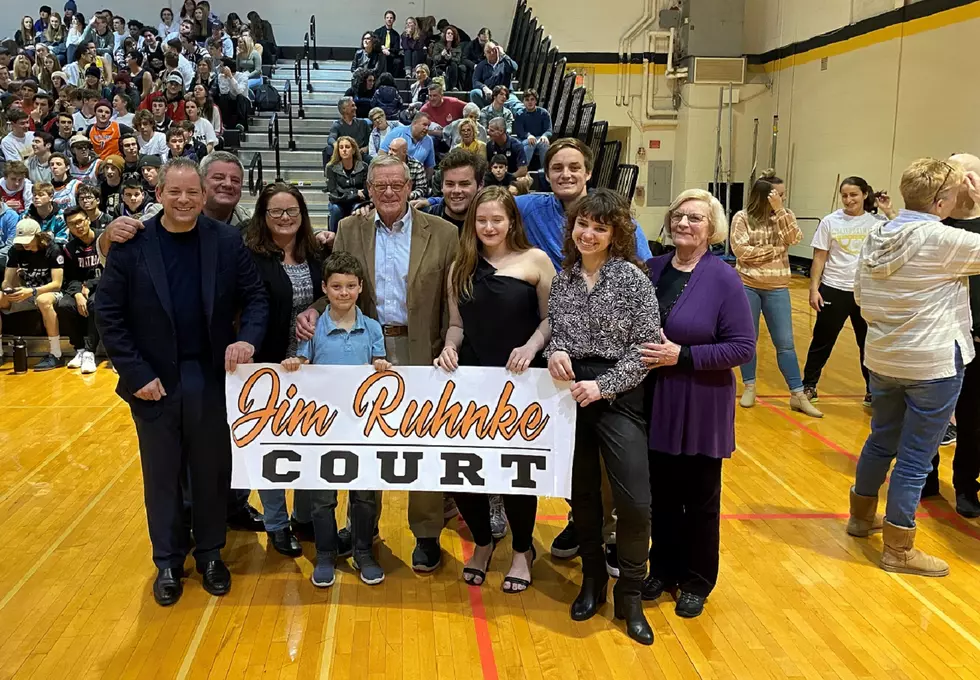 Good Basketball and a Bad Dress to start 2020
Dedication of Jim Ruhnke Court at Southern Regional High School (Kevin WIlliams, Townsquare Media NJ)
Welcome back to me!  Did you miss me?  Did you even know I was gone?
Believe me I was not on vacation but rather busy with the 36th annual WOBM Christmas Classic which completed its 7-day, 52-game run last Monday with championships for the Manasquan boys and Manchester girls.
Like I say often this basketball tournament is a true labor of love and only happens because of the hard work of many and great sponsorship support we receive from among others InVision Eyecare of Lakewood & Eatontown, The Causeway Family of Dealerships, Community Medical Center/RWJBarnabas Health, Seaview Orthopaedics, Health Village Imaging, Jersey Mike's, the Clarion Hotel and another dozen or so supporters.  I'm already working on #37 for next December.
Ironically one of the individuals who helped me in the early years of the tournament was then Southern Regional basketball coach Jim Ruhnke and I got a chance to thank him publicly over the weekend when the high school dedicated the basketball court in the 9/10 gym in his name.
Superintendent Craig Henry and others put together a great ceremony at halftime of the Rams game with Toms River East and I was truly honored to be able to offer my thoughts on Ruhnke who annually produced teams who were always prepared and well-coached.
Under his direction Southern won the first three WOBM Christmas Classic titles and four of the first five and it was nice to see those banners still hang in the gym which is now home of the Jim Ruhnke Basketball Court.
A couple of other quick hitters today:
In a season in which just about every key Eagle player was hurt and missed time it was quarterback Carson Wentz who played all 16 regular season games.  However in what is bitter irony Wentz suffered a head injury in the first quarter Sunday and did not return as the Eagles saw their season end with a home playoff loss to Seattle.
So I watched most of last night's Golden Globe Awards and as you would expect host Ricky Gervais probably stepped over the line a bit during his 9-minute monologue which certainly made some of those in attendance uncomfortable as they enjoyed their vegan meal.
By the way if you watched then you'll know what I mean when I say "what was Jennifer Lopez thinking with that outfit she was wearing."  The answer is: she wasn't.