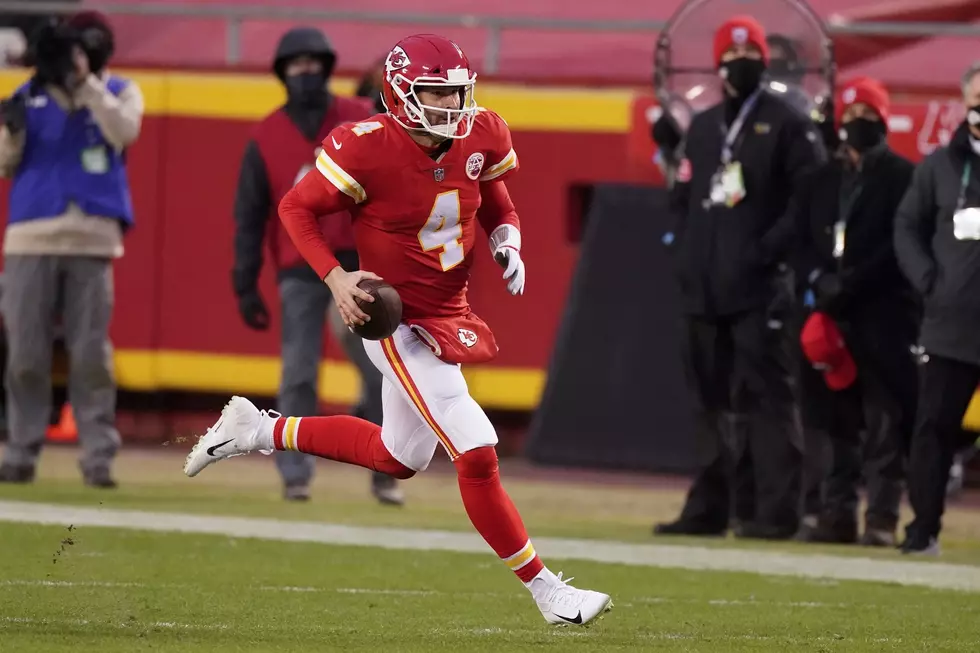 Football Hero Off the Bench,High School Basketball Tries to Play
Kansas City Chiefs quarterback Chad Henne scrambles up field during the second half in a NFL playoff game against Cleveland (AP Photo/Charlie Riedel)
Bouncing around on what is a holiday for many:
You know what makes sports special? Chad Henne. The 35-year old career backup came off the bench for Kansas City Sunday when star quarterback Patrick Mahomes suffered a concussion.
Henne, who had never taken a snap in a playoff game in his 13-year career, made a couple of big plays to help the Chiefs hold off Cleveland and advance to the AFC Championship. It appears Mahomes will be able to play this weekend against Buffalo which is good news for the defending Super Bowl champs. Meanwhile maybe Henne can get a part in Patrick's next State Farm Insurance commercial.
Eight days before the start of the high school basketball season and there are some schools dealing with issues related to positive COVID-19 tests. It will likely be something that impacts more and more teams as the season goes on and similar to the fall season the real definition of success might simply be playing all the games on your schedule.
The list of those expected to serve as guest hosts on "Jeopardy" includes Packers quarterback Aaron Rodgers, journalist Katie Couric, "60 Minutes" correspondent Bill Whitaker, actress Mayim Bialik and the show's executive producer Mike Richards. According to today's New York Post comedian, actor and radio host Joe Piscopo is also being considered and other guests will be named later.
Former Jeopardy champion Ken Jennings has been serving as guest host since the show returned following the death of Alex Trebek and remains the front-runner to land the gig on a permanent basis. There are reports that Trebek did make several suggestions as to the future of the show before his death last October.
So you think umpiring a baseball or softball game is easy? The Shore Umpires Association will be holding training classes beginning February 2 for anyone interested in becoming a high school baseball and/or softball umpire. Completion of the course gets you certified by the state and the National Federation. For information visit shoreumpires.org.
50 Famous Brands That No Longer Exist