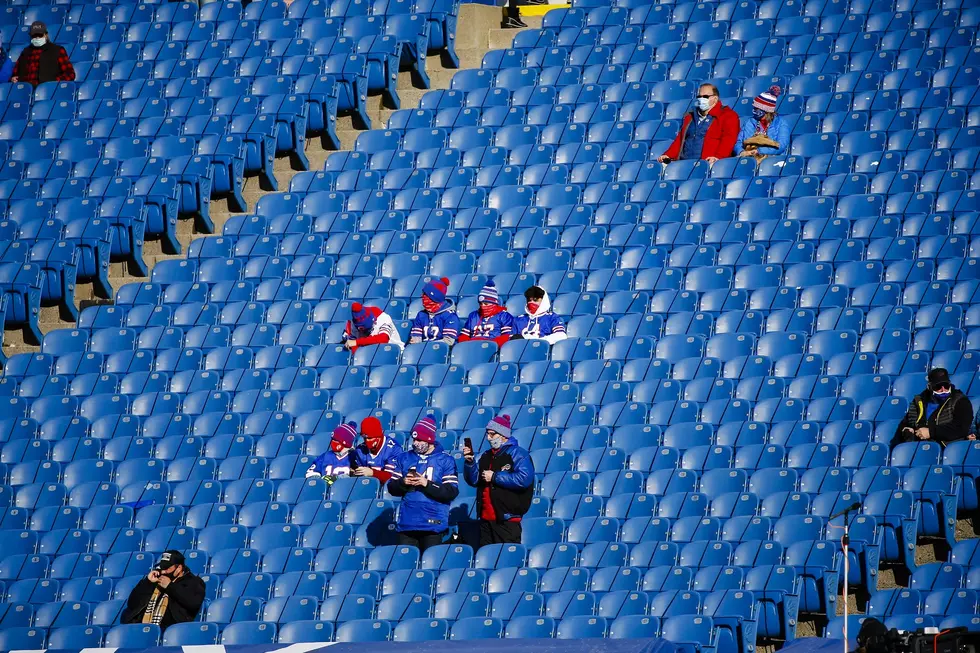 Football F-Bombs and some Great Commercials
Socially distanced Buffalo Bills fans at Saturday's playoff game at Rich Stadium (AP Photo/Jeffrey T. Barnes)
It's time for another edition of "Monday Musings" which translates into a little of this and a little of that:
The opening weekend of the NFL Playoffs saw victories for the Browns and Bills…for Cleveland their first post-season win in 26 years while fans in Buffalo had to wait 25 years. And you Jets fans thought you had it bad!
For some reason (money I'm sure) Sunday's Saints-Bears game was not only broadcast by CBS but simulcast by Nickelodeon which of course is a kids network. Well somebody is getting yelled at because late in the first half a Chicago player was caught dropping an F-bomb which was picked up by the referee's microphone for all the Nickelodeon world to hear.  The broadcast featured a pair of the network's teenage stars and slime-filled animations to celebrate touchdowns.
Just my opinion but the best series of commercials on television these days are the ones for Geico and State Farm Insurance.
As for a single commercial that will tug at your heartstrings, the two-minute Montefiore Health Systems "Tribute to the Healthcare Heroes Saving New York" is simply beautiful. It was inspired by what became an evening ritual in the city during the pandemic when at 7 p.m. people would clap, cheer and bang pots and pans in support of those putting their lives on the line to save others.  The commercial has been viewed on YouTube more than 3 million times.
High school basketball practice officially begins in New Jersey today with first games scheduled for January 26. Let's hope that remains on schedule as the season will be a shortened one with a maximum of 15 games played from start to finish.
There will never be another Tommy Lasorda who died last week at the age of 93. He spent 71 years in the Dodgers organization as a player, coach, manager, front office executive, advisor and more.  Lasorda was simply good for the game of baseball.
20 Words and Phrases That Are So 2020