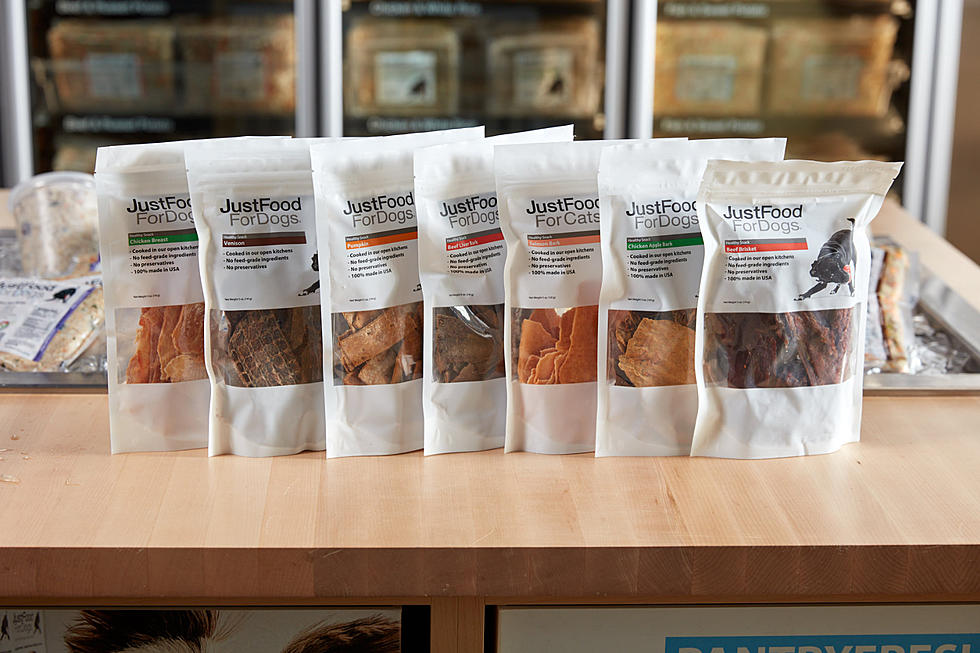 First-ever gourmet kitchen for dogs opens its doors in NJ
Via Just Food For Dogs on Facebook
I'm not sure if you know this, but one of the most dog-friendly communities in New Jersey is Hoboken. In fact, with so many pet owners who consider their pets part of their families, and an ever-growing human population, it's one of the things that attracts many people to Hoboken.
With multiple dog parks and various events for pups, it seems like everyone, including businesses, loves catering to fur babies.
That's why it's so exciting that this new store, Just Food For Dogs has opened in Hoboken at 1125 Maxwell Lane, according to hobokengirl.com.
Just food for dogs serves fresh human-grade food made for dogs, created by a team of veterinarians, including a nutritionist, a toxicologist and dermatologist.
Shawn Buckley, a dog-loving successful entrepreneur started the company after reading the ingredients of a bag of kibble, knowing there must be a better way to feed our furry friends.
What makes JFFD so unique is that each kitchen or pantry is staffed by veterinary, trained nutrition, consultants guide you to make the best choices for your dog.
All of their whole-food meals are gently cooked for superior nutrient absorption and support specific health needs. In fact, JFFD meals are the #1 vet-recommended fresh food for dogs because they've been proven to be more digestible and promote immune system health.
The article goes on the explain that you can meet with a Nutrition Consultant remotely or right at the store to discuss your dog's needs.
Also, there are recipes are made available to the public so that pet parents can cook for their dogs at home.
And you won't believe the menus. Turkey, whole wheat macaroni, fish and sweet potato are just a couple of the healthy offerings.
JFFD is the first-ever kitchen for dogs with food cooked in open kitchens.
With nearly 50 locations nationwide and 500 employees, just food for dogs is the place to go when you want to make sure your fur baby gets the best of everything. You know he (or she!) deserves it.
Opinions expressed in the post above are those of New Jersey 101.5 talk show host Judi Franco only.
You can now listen to Dennis & Judi — On Demand! Hear New Jersey's favorite best friends anytime, anywhere and any day of the week. Download the Dennis & Judi show wherever you get podcasts, on our free app, or listen right now.
Click here to contact an editor about feedback or a correction for this story.
Even more cutest pets in New Jersey — 2023
We asked for the cutest pets — and we got 'em! Here are some more of all the furry, scaly, feathery and wrinkly friends in the Garden State.
We've announced our winner here.
The 10 most searched pets in the US
The website
allaboutcats.com
took a look at internet search trends to see what the most in-demand pets are in the US. The results may surprise you.