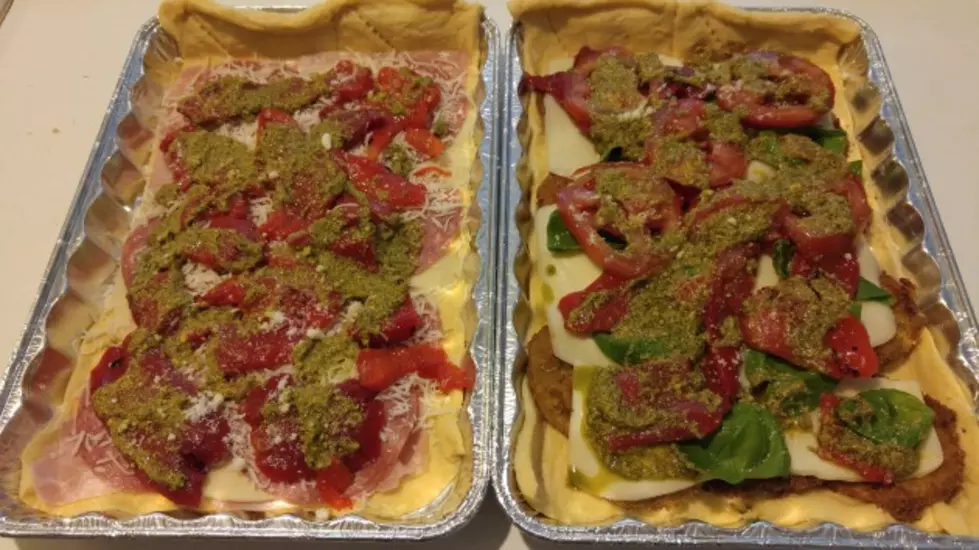 Easy Recipe for Delicious Antipasta Squares
Marianne, WOBM-AM
Being brought up in an Italian household, one thing you learn early is 'never visit without bringing food', so when I had my cooking class last week at Bey Lea Rehablitition and Nursing Center, I was by no means surprised when listener friend Loretta showed up with a couple of dishes of which I HAVE to share.
Right after my first bite while I was still chewing I said 'Oh my God, I need to make this' and I did over the weekend: 3 batches to be exact and my friends that ate it raved about it, so with Loretta's permission here it is:
Antipasta Squares
Preheat oven to 325 degrees
2 packs Pillsbury Crescent Rolls
1/4 lb. each of: ham, provolone cheese, Genoa salami, swiss cheese, sliced pepperoni (I substituted mozzarella for the swiss and added pesto sauce)
Roasted Red Peppers
3 eggs
1tsp. Black pepper
3 Tablespoons grated Romano cheese
Directions:
Drain red peppers  & pat with paper towel to remove excess oil.  Take 1 pack of rolls & unroll into a 13x9 baking dish.  Layer meats and cheeses in order as listed above.
Mix 3 eggs, black pepper and grated cheese.  Pour most of the mixture over the layers, but save enough to brush on top of crescent layer.
Unroll last pack of rolls on top and brush with remaining egg mixture.  Cover with foil and bake for 25 minutes.  Uncover and brown.
Remove from oven and let sit for at least 10 minutes before cutting.
Can be served warm or cold.
I have a friend who is a vegetarian, so I made one with fried eggplant, fresh basil and all the ingredients except the meats.  He called me that night and said it was the best thing he's ever eaten.  That could have been a little exaggeration, but that was to get his point across.
I can tell you this much: this is my new 'go to' dish when I visit!