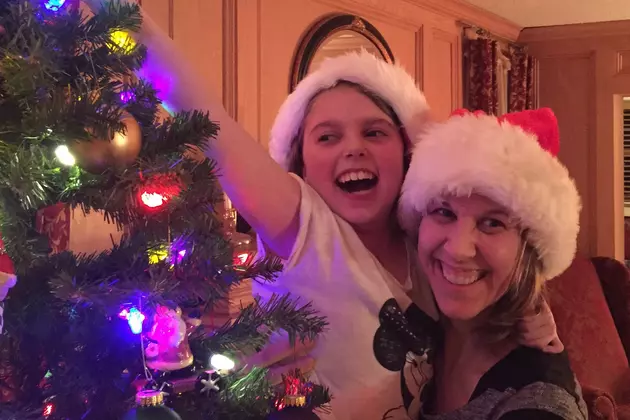 Early holiday drive at Old Bridge High School to bring cheer to children hospitals
Marisa Tufaro with her mother Cyndi (Photo courtesy of Greg Tufaro)
OLD BRIDGE — A high school was transformed into a winter wonderland on just the second day of classes this school year as part of a donation drive in memory of a 13-year-old local girl whose fight against cancer and other health issues came to an end in January.
Her name was Marisa Tufaro, and although she didn't live in town, connections her sports journalist father Greg has at Old Bridge High School made it a logical location to organize something special. So on Friday, Sept. 8, the high school staged the "Holiday Knight" toy drive (Knights being the school's nickname) at its football game against South Brunswick.
Sally Fazio, OBHS vice principal, said plans came together quickly, with classes having started only a day before.
"Our students are just so involved in community service as such a big part of their everyday culture here at the school, so just any kind of word out, or a tweet about it, we had so many kids that were there and ready to help," Fazio said.
The schoolwide effort ensured Holiday Knight, which included bringing in a live reindeer and the character Yukon Cornelius from the "Rudolph the Red-Nosed Reindeer" TV special, would be as successful as possible.
Marisa's cancer diagnosis was brought on by complications from a heart transplant, which was itself made necessary by a cardiac defect she'd battled since birth. In recognition of the facilities where she sought and received treatment, the donated toys are going to area hospitals that treat pediatric patients.
Old Bridge football players and cheerleaders, along with their counterparts from South Brunswick High School, are helping Greg Tufaro and his wife with those efforts.
"That was one thing he wanted to do, to be able to fill all of these rooms at the two local children's hospitals with as many toys as he can, so that families who are in the same situation as he and Cyndi were in would be able to just go down and be able to have Christmas with their loved ones who are ill," Fazio said.
Even though Holiday Knight has passed, donations of new, unwrapped toys and gift cards are still being accepted at the high school. You can also make a monetary contribution directly to The Marisa Tufaro Foundation.