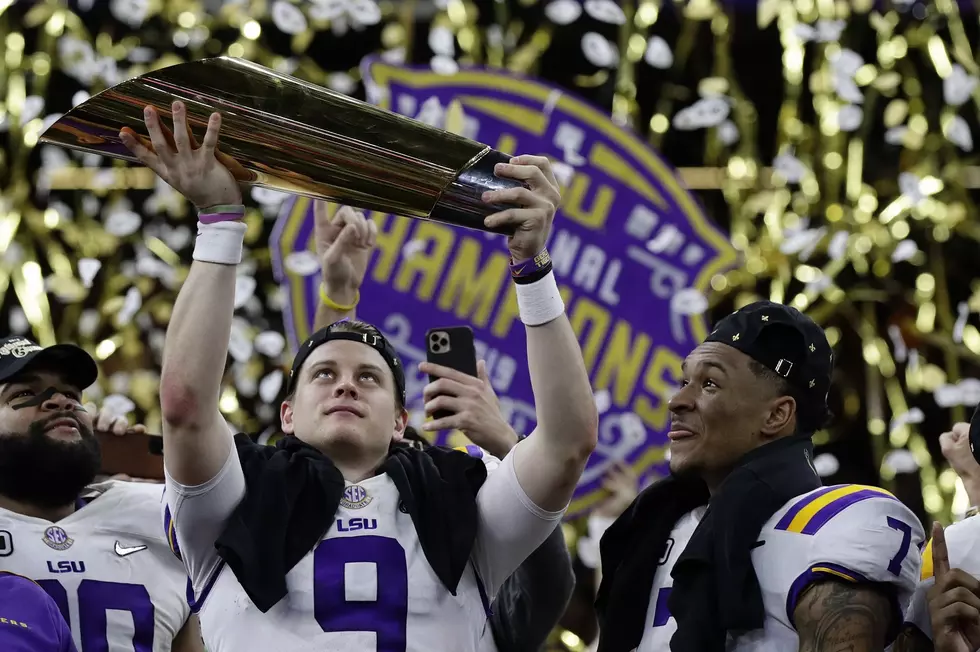 Dealing With Life's Aches and Pains
LSU quarterback Joe Burrow holds the Championship Trophy (AP Photo/Sue Ogrocki)
You may or may not know that I have been dealing with back issues since late summer.
I suffered for about a month with a bout of sciatica (which was awful) and finally was diagnosed with spinal stenosis which causes discomfort in my lower back when walking or standing for an extended period or doing any lifting.  On top of that in recent weeks I have experienced hip pain which I assume is related.
I've been going to Atlantic Physical Therapy Center in Toms River for several months and that has clearly helped but there is no simple cure for stenosis outside of surgery.  Yesterday I had my second injection, a nerve block that does not appear to have offered any real relief and I'm not sure what's next but unless you have had back pain you don't realize how much it effects your overall health.
I'll keep you in the loop as I move forward but I clearly have greater sympathy for those who deal with back issues because it can be both painful and frustrating.
A few random thoughts to share:
I'm working on just 3 ½ hours sleep after staying up to watch LSU top Clemson 42-25 and win college football's national title. Heisman Trophy winner Joe Burrow finishing one of the greatest seasons any player has had with 463 yards passing and 5 touchdowns.
The Houston Astros 2017 World Series title is forever tainted and it appears the same might be said for the Boston Red Sox a year later. Major League Baseball came down hard on the Astros for using video to steal signs and the record books should put an asterisk next to their listing as champions because they cheated.  The Red Sox may be joining them on that list.
Don't know if it will win an Oscar for Best Picture but "1917" is an awesome movie that like "Saving Private Ryan" depicts the horror of what combat was and is really like. For those who have an interest in history it's a must-see film.
Speaking of things worth seeing we saw "To Kill a Mockingbird" on Broadway last week and it was everything we had heard and then some. Just brilliant with Ed Harris as Atticus Finch. A classic if ever there was one.