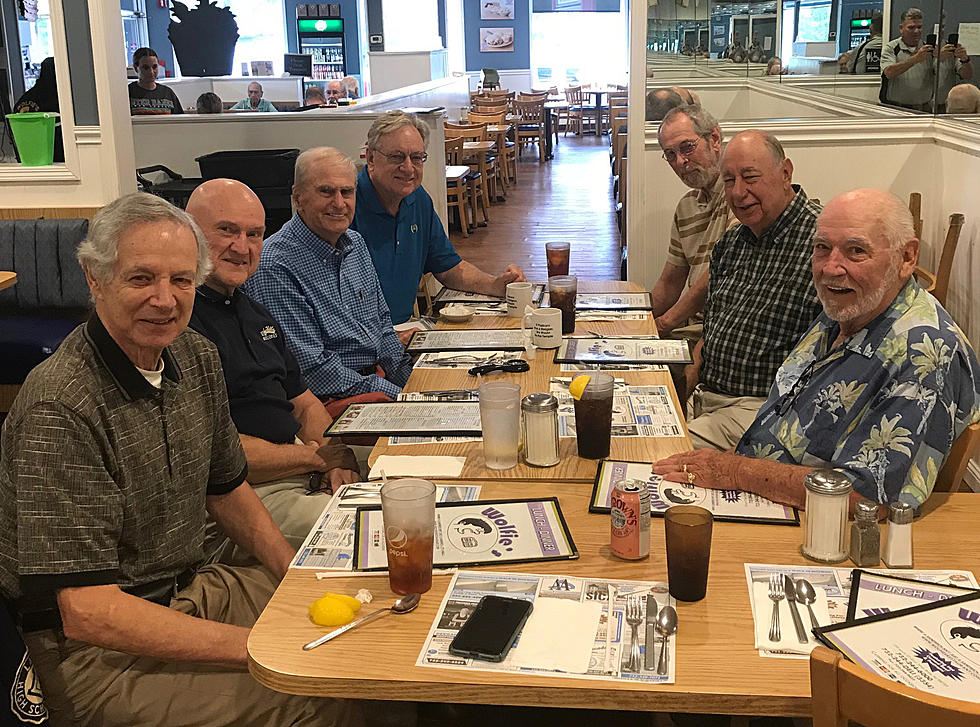 Celebrating a Championship 62 Years Later
(Left front to back) Larry Kaufman, Bill Karjane, Joe Mayer, Bob Housen
(Right from to back) Dennis Grippen, Bernie Shapiro, Bruce Matthews (Kevin Williams, Townsquare Media NJ)
They have met for lunch annually for about the last 15 years and last week this group of men united by sports got together at their usual location, Wolfie's Deli & Restaurant in Toms River.
Not of all them make the yearly reunion but the ones who still live in this area do and seem to enjoy the company of older men who were once high school teammates.
The 1955-56 Lakewood High School basketball team won the Central Jersey Group II championship, finishing 18-4 under the direction of head coach Joe Mayer who had graduated only ten years earlier from the school and was himself a star athlete.
While he played basketball it was baseball where Mayer really stood out and if not for circumstances might have made it to the major leagues with the Phillies. He was among the inaugural class when Lakewood established an athletic hall of fame in 2005 and seems to be the glue that holds these annual lunch meetings together.
Five players from that championship team were at Wolfie's last week when I showed up including Larry Kaufman would go on the play at Rutgers and Bill Karjane who played at Princeton. Meanwhile Bob Housen would find his greatest success on the golf course where he won six NJ State Amateur Championships.
Rounding out those at the reunion were Bernie Shapiro and Bruce Matthews, all part of a championship Piner team from 62 years ago along with classmate Dennis Grippen.  Kaufman, Karjane & Housen like Mayer have all been inducted into the Lakewood High School Athletic Hall of Fame.
Ironically the best known player on that squad was a sophomore by the name of Jack Ardon, who would become the first 2,000 point scorer in New Jersey scholastic history and would go on to have a brilliant career at Tulane University and later played in the NBA and ABL.
I left just after they ordered lunch and started telling stories because I had to get back to work.  Coach Mayer thanked me for stopping by but the honor was all mine. Next year I might even stay and have a corned beef sandwich with them.