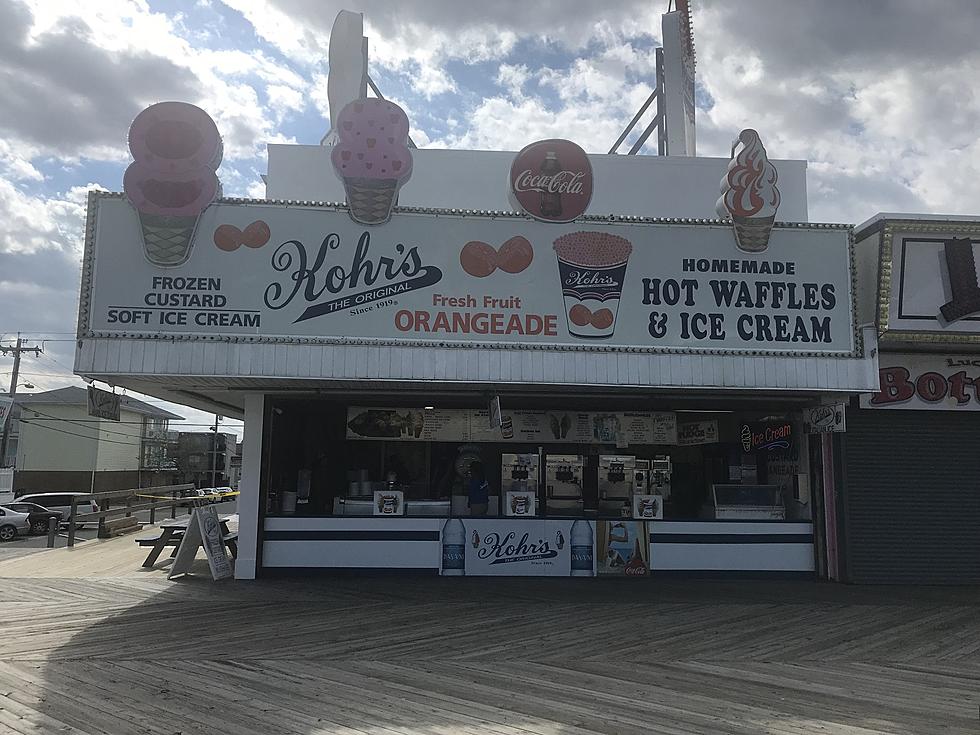 Celebrating 100 Years of Kohr's Custard
The original location of Kohr's on Franklin Ave in Seaside Heights (Kevin Williams, Townsquare Media NJ)
There have been so many changes on the Seaside boardwalk over the years but a constant has been Kohr's Frozen Custard which is celebrating its 100th anniversary.
"The Original" actually opened before there was even a boardwalk in Seaside Heights and the recipe today is pretty much the same as it was many years ago.  The frozen custard is still made with 10% milk fat and the hard ice cream with 14%.
In full disclosure my favorite has always been the Orange Cream and I've had my share over the past 50 years at what I consider the main boardwalk locations at Franklin Avenue and the entrance to Casino Pier.
To celebrate a century of making people happy third generation owner Greg Kohr is treating locals and visitors alike to free custard on Friday from 5 p.m. -7 p.m. at the Franklin Avenue location of Kohr's: The Original.
In addition he will be donating the proceeds from Friday's sales to St. Jude Children's Hospital. By the way if you have not tried Kohr's Orangeade then you are missing out. It's still made with fresh fruit and really delicious.
New York Giants general manager Dave Gettleman might be the happiest guy in America today.  After weeks of taking heat for his personnel moves he is off the hook for now because the Big Apple sports media has another target, the New York Jets.
Wednesday Jets ownership announced they had fired general manager Mike Mccagnan as well as their vice president of player personnel in what was an apparent power struggle with new head coach Adam Gase.  The timing is incredibly bizarre as this comes not only after the NFL Draft but after the free agent signing period in which the Jets were very active.
Mccagnan by the way was instrumental in the hiring of Gase this winter after he was fired by the Miami Dolphins.  In typical Jets fashion they have now made Gase the interim GM while they search for a successor.  So if you're keeping track the race for the worst-run sports franchise in New York has a new leader and once again it's the Jets.
Today would have been James Williams' 91st birthday but my dad is no longer with us.  More than anything I would have liked him to see the birth of his first great grandchild in just a few weeks but hopefully he'll look down, light up a cigar and take a sip of Jack Daniels to toast the happy occasion.