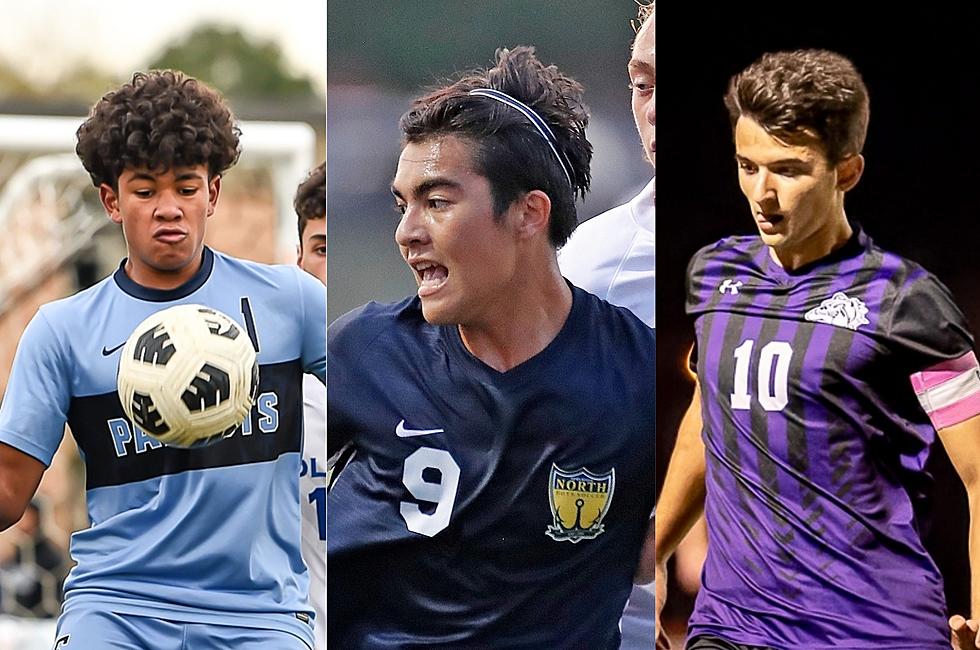 Boys Soccer – Group Semifinal Preview: Toms River North, Freehold Township and Rumson Continue Quest for State Championships
From left: Freehold Twp. senior Herman Colbert, Toms River North senior A.J. Emnace, Rumson-Fair Haven senior Luke Pentikis. Photos: Tom Smith and Ray Richardson.
NJSIAA Group Semifinals
Tuesday, Nov. 16, 2021
Group IV
Toms River North (15-2-2) at Freehold Township (17-3-1), 2 p.m.
For the third time this season the top two public school teams in the Shore Conference will lock horns and Tuesday's match in Freehold will be the biggest of the three. Tuesday will mark the second time Toms River North and Freehold Township meet this season in a tournament semifinal, with Toms River North running away with a 4-1 win over the Patriots in the Shore Conference Tournament semifinals at Barnegat High School. The regular-season meeting between the teams in Toms River ended in a 0-0 draw, with Toms River North's top two scorers – seniors Jared Brown and A.J. Emnace – sitting that one out.
Either Toms River North will eliminate Freehold Township for a second time and advance to the Group IV final for the first time since winning its only overall state title in 1983, or Freehold Township will exact its revenge and head to the Group IV final for the first time since 1982. The Patriots claimed a share of the co-title that year by tying Kearny in the championship game.
Freehold Township learned the hard way that Emnace and Brown are difference-makers for Toms River North up top. Emnace scored a goal in each half and Brown recorded a goal and two assists to help the Mariners blow open the semifinal showdown. In the state tournament Emnace has been a scoring machine, putting up eight goals in Toms River North's first three wins before the Mariners needed penalty kicks to beat Cherokee after 100 scoreless minutes of Thursday's South Jersey Group IV championship game.
Just as Toms River North responded to losing to CBA, 3-0, in the SCT final by dominating three straight games and pulling out a sectional championship in the final, Freehold Township did the same after losing to the Mariners. The Patriots fell behind Hillsborough, 2-1, and proceeded to score nine goals in the next five halves of soccer to earn a spot in the final.
While it has been Emnace doing the bulk of the damage for Toms River North, Freehold Township has leaned on its own senior forward in Herman Colbert. With 16 goals and 14 assists, Colbert has had a strong season overall and has really delivered in the state tournament with six goals and an assist so far.
Senior Josh Hocheiser scored the one goals Freehold Township managed to score vs. Toms River North in two games this year and has been a major factor for the Patriots all year. Seniors Ryan and Sean Keegan have also stepped up in a big way during the postseason, while juniors Noah Jones and Tim Bertscha have played key roles and freshman Joshua Jerome has made himself a threat as a high-school rookie. Another key spot to watch is in goal, where senior Richard Lockard has had to step up in the absence of injured starter Giancarlo Pantano, which Lockard has done, and then some.
After hammering Freehold Township in the last semifinal the two teams played, Toms River can feel good about how it matches up against the Patriots but there is one equalizing factor this time around: the field. By this stage of the season, the Freehold Township field on which two teams will meet has seen better days, to say the least. Toms River North is not used to playing on grass as it is and now, the Mariners' hopes of playing for a Group IV champion will depend on how they deal with an unpredictable, messy track.
Both teams have enough skilled athletes to make scoring plays, regardless of how difficult it is to put passes together, and throughout its three-year run, Toms River North has been a brilliant road team – even on natural surfaces from time to time. Freehold Township will hang around in this one, but Toms River North has been the Shore's torch-bearer in the public-school field this year and, if forced to make a prediction, the Mariners will be the one representing the conference in the Group IV final.
The Pick: Toms River North, 1-0
Group II
Delran (19-2-2) at Rumson-Fair Haven (11-4-3), 6 p.m.
For the first time in program history, Rumson-Fair Haven will play in a group semifinal game, with a chance in the Group II final riding on the outcome. The Bulldogs won their first sectional title Thursday night in thrilling fashion, with junior Alec Pentikis connecting on a picture-perfect shot for the golden goal to beat Holmdel.
After vanquishing one perennial Group II championship contender, Rumson will welcome in yet another Tuesday when Delran travels northeast in search of its 20th win and yet another trip to the Group II championship. The Bears have been to 10 Group II championship games and are 4-2-4 once they make it to the title game.
This year's version of Delran is beginning to look like a vintage outfit. At 19-2-2, Delran has failed to win just four times and each of those games were against top-flight opponents: Kearny (tie), Cinnaminson (loss), Hunterdon Central (tie) and Scotch Plains-Fanwood (loss). Delran has rounded into form around two top scorers who are both sophomores. Drew Roskos has racked up 29 goals on the season and classmate Nikolas Grello nine goals and eight assists to lead the attack.
The main senior influence on the team comes from defender Patrick Little (five goals, four assists) and forward Justin Little (9 four goals, nine assists).
Rumson also gets key contributions from non-seniors, namely juniors Alec Pentikis, Antonio Santos, Jacob Brown and Reece Moroney. Pentikis, Brown and Santos have keyed the attack for the majority of the year, with Brown coming on of late to give the Bulldogs a second scoring threat up top with Pentikis. In the middle Santos has paired with senior Luke Pentikis to form a well-rounded one-two punch, with Moroney and senior Harrison Gibson backing them up and protecting senior goalkeeper Aiden Colburn.
With the way both teams are constructed, this could be the first of more than one meeting over the next two years. It is easy to give Delran the edge because of program pedigree, but the lack of high-school experience on the roster could help Rumson stay close. Ultimately, though, Delran remains a team built for this time of season, even on the road against a hot, hungry Rumson team.
The Pick: Delran, 2-0