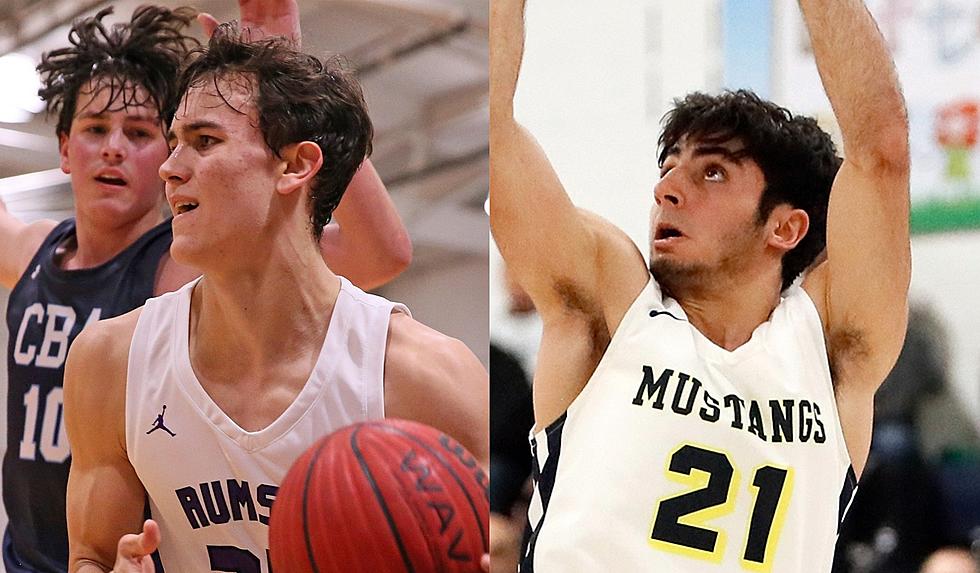 Boys Basketball – Sectional Final Preview, Pt. 1: Marlboro and Rumson Go for Titles on Monday
Rumson senior Scott Gyimesi and Marlboro senior Jon Spatola. (Photos by Ray Rich Photography)
NJSIAA Tournament Sectional Finals
Central Jersey Group IV
No. 7 Trenton (19-9) at No. 1 Marlboro (26-2), 6 p.m. - Watch Live
The Central Jersey Group IV final pits a team with almost no sectional final history against the team with one of the best postseason resumes of any team currently in Central Jersey Group IV. And yet, it is the team with no championship history that is the favorite to capture the title on Monday evening.
Marlboro had never made it to a sectional championship game until 2020, when the Mustangs were on the verge of winning their first Central Group IV title until South Brunswick stunned them at the buzzer, 72-71. After waiting two long years to get another opportunity, Marlboro is back on the doorstep of winning the program's first sectional championship after getting its revenge over South Brunswick in Friday's quarterfinal round.
Trenton, meanwhile, is gearing up to play in the Central Group IV championship for the third time in the last four tournaments, which includes a sectional title in 2018. That year, Trenton also went on the road as a No. 7 seed to beat a No. 1 seed from the Shore Conference – a 42-41 win over Colts Neck.
Those particulars might sound a little unsettling if you're on the Marlboro side, but Marlboro is not just any No. 1 seed. The Mustangs are 26-2 and both losses came while missing senior starter Zack Molod for a stretch of four games in early January.
Speaking of senior starters, Marlboro has five of them – Molod, Jack Seidler, Jon Spatola, Jay Ratner and Vin Spatola – and all five can score when the ball finds them in the right spot. Seidler and Spatola are 2021 First Team All-Shore selections and Ratner handles the interior duties while also remaining a three-point threat on offense.
On the Trenton side, the Tornadoes will counter with five junior starters and another lineup without a conventional big man. Despite lacking imposing size, the Tornadoes do have players who can play bigger than their listed heights. Davontay Hutson has demonstrated as much with three double-doubles in three state tournament games, including 24 points and 16 rebounds from the 6-foot-2 junior in Friday's road win over Jackson Memorial.
Hutson (17.9 points per game) and classmate Antwan Bridgett (16.7) are the two main scoring threats for Trenton, with Bridgett coming off a seven-point outing against Jackson Memorial. They are joined by Brazil Fields, Calvin Moore and Chris Wilson in the starting lineup, with Wilson handling some of the frontcourt duties along with Hutson.
Monday's game will be an interesting matchup stylistically, with both sides comfortable playing all 94 feet and doing so without deep benches. Junior Wayne Williams is a threat off the bench for Trenton, while A.J. Schwartz is the fill-in when Marlboro coach Mike Nausedas needs one.
With the starters taking on so much of the workload, Marlboro is running up against late-season fatigue, but hasn't shown any effects to this point. They have consistently closed games strong throughout the postseason and as close as they are to a championship, one would have to figure they will have enough to close out one more.
The Pick: Marlboro, 68-59
Central Jersey Group II
No. 2 Bound Brook (22-4) at No. 1 Rumson-Fair Haven (20-3), 6:30 p.m. - Watch Live
Monday will not mark a first-time experience for either Rumson-Fair Haven coach Chris Champeau nor his counterpart, Anthony Melesurgo of Bound Brook, but both coaches have had very different experiences in the sectional final.
Rumson is playing in its third Central Jersey Group II championship since 2017 and all three are on the Bulldogs' home court. Champeau would also like finish off Monday night with a third sectional championship in six years and if he and his team do so, the home court will be a major reason why. The Bulldogs have not lost a game at home this year and since Champeau took over as head coach, his team is 3-0 in sectional finals at home and 0-1 on the road.
Bound Brook, meanwhile, is playing its first postseason in Group II and while that is a step up in competition, the Crusaders have to be happy to get away from Burlington City, which eliminated Bound Brook in four straight tournaments from 2017 to 2020.
Since 2013, Bound Brook has made it to five sectional finals, with the four prior to this year coming in Central Jersey Group I. The Crusaders have lost all four – one to Point Beach, one to Florence and two to Burlington City. Melesurgo and his crew are hoping Rumson is not added to that list on Monday night and in order to ensure that, the Crusaders will need to find a way to contain Rumson senior forward Scott Gyimesi while also minding the Bulldogs' three-point prowess and overcoming the Bulldogs' all-senior starting five.
Any of Rumson's guards can step up as the top threat alongside Gyimesi, with Geoff Schroeder the most likely candidate most nights. Trent Sloan has game-changing athleticism, Owen Sullivan can score and distribute as the point guard and Cal Famula has shown he can catch fire as a shooter. Junior Luke Mikolajczyk is a capable sixth man as well for Rumson, which he showed in a strong performance vs. Holmdel on Friday.
While Bound Brook has to account for Gyimesi, Rumson will have its hands full with a double-double machine on the Crusaders side. Junior 6-7 forward Jordan Summers is averaging 21.5 points and 13.7 rebounds, including 20.3 points and 14.3 rebounds in these playoffs.
Last round, however, it was senior guard Quadir Williams leading Bound Brook to a thrilling win over Raritan. Williams finished with 17 points and five assists, including the game-winning layup with 1.8 seconds left in a 50-49 Crusaders win.
To overcome Rumson on its home floor, Summers and Williams will have to be in top form and Summers will, at the very least, have to neutralize Gyimesi. Rumson will need the opposite, with the Bulldogs often going as Gyimesi goes. He averaged 10 points in Rumson's three losses and 20.4 in the 20 wins.
With an all-senior team that is playing in its first sectional final, the Bulldogs enter with the major edge at home and have to feel confident after Bound Brook barely got by a Raritan squad that Rumson beat, 78-40, on Feb. 12.
The Pick: Rumson, 64-51