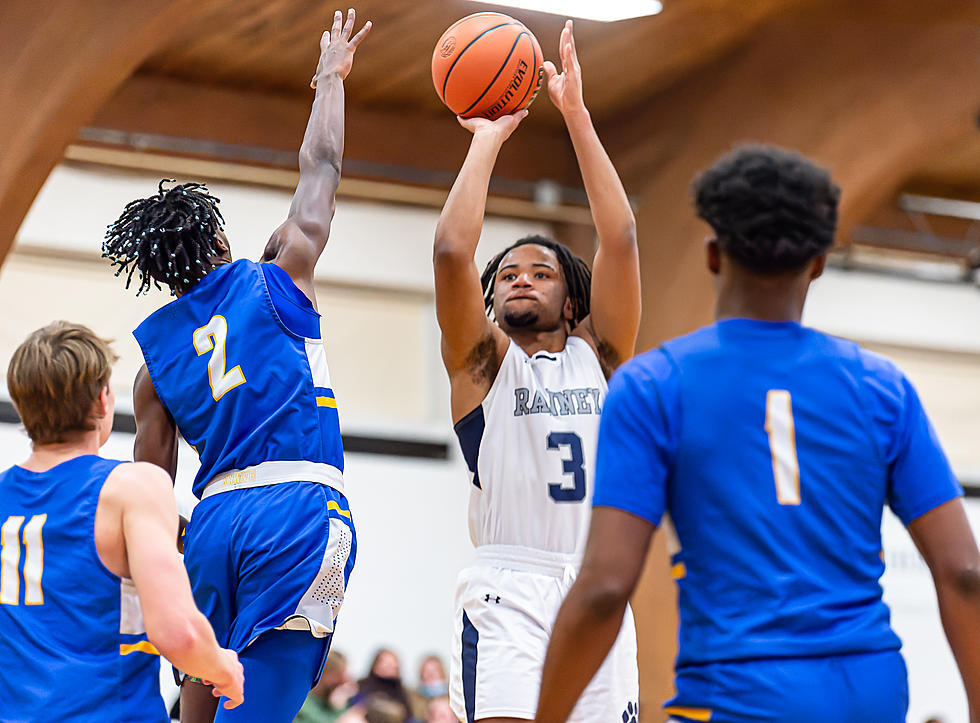 Boys Basketball – Ranney Bounces Back With Crucial Win over Manchester
Ranney junior Isaac Hester shoots over Manchester D'Maari Brown (2) and Savon Myers (1). (Photo: Tom Smith | tspsportsimages.com)
TINTON FALLS -- Four days removed from the program's worst offensive performance in the seven seasons since coach Tahj Holden took over, the Ranney boys basketball team got a chance to put the lopsided loss to Red Bank Catholic behind it and conquer another Shore Sports Network Top 10 team.
On Wednesday against Manchester -- No. 10 in the Shore Sports Network -- No. 7 Ranney did everything it failed to do on Saturday against the Shore's No. 1 team and it made the difference.
Junior Isaac Hester led a hot start to the game and Ranney showed poise in fending off multiple runs from Manchester in a 58-46 win that provides some relief for the Panthers following a 27-point loss to Red Bank Catholic on Saturday in which Ranney scored only 29 points -- including only six in the first half.
"That was a tough game and when you shoot poorly like that, all you can do is look forward," Hester said. "We'll see them down the road and give them a better game, but for now, we just had to regroup, but it behind us and just keep playing the way we know how to play."
Hester led all scorers with 23 points and also dished out six assists. Senior T.J. Braswell-Brown also gave Ranney 13 points, junior Zack Davis contributed eight points and 12 rebounds, while senior Brandon Klatsky, senior Charles Anyichie and sophomore Drew Buck all provided key contributions throughout Wednesday's game.
Wednesday was a much different start for the host Panthers, who stormed out to an 18-4 lead and led, 22-9, after the first quarter. Ranney shot just 2-for-18 in the first half on Saturday, but flipped the script by going 9-for-14 in the first quarter on Wednesday.
"You always have something to prove, but I feel like after a 30-point blowout, it adds fuel to our fire," Braswell-Brown said. "Like we didn't have our student section today, I guess they didn't want to come after we got blown out. Hopefully, we'll see them again."
Ranney's lead ballooned to 32-14 late in the second quarter, but Manchester closed the half with an 8-2 burst to cut it down to 34-22.
A Hester jumper made it 41-26 near the midway point of the third quarter, at which point Manchester embarked on a 10-0 run to chop the Ranney lead to five with 2:20 to go in the quarter.
Buck came up with a baseline floater to end the run and Hester and Braswell-Brown followed with baskets to push the lead back to 11 heading to the fourth quarter.
"Coach told us before the game they were going to make runs," Hester said. "We just have to stay composed, do what we do, run our plays, run our sets and stay together."
Manchester again got its deficit back down to five, 47-42, on the fifth three-pointer of the game by senior D'Maari Brown, who finished with 17 points. Braswell-Brown answered with a cut to the basket and finish off a pass from Hester and later scored off a steal to push Ranney's lead up to 53-44.
Klatsky (five points) helped ignite Ranney in the first quarter with an early three, a layup and a pair of steals, while the 6-foot-6 Anyichie defended Manchester star senior guard Savon Myers. Defending Myers on the perimeter likely suppressed Anyichie's usual lofty rebounding and blocked-shot numbers but he still managed to block four shots.
Myers led Manchester with 21 points and scored the 1,000th point of his career on a fastbreak dunk in the third quarter. Myers entered the game 17 points shy of the benchmark and now has 1,004.
"Charles stepped up great defensively," Hester said. "(Myers) is basically a point guard, so for Charles to be able to guard him with his size was big for us."
Ranney is hoping Wednesday's win helped the team turn the corner and get back into the conversation as one of the threats to win the Shore Conference Tournament, which is set to begin three weeks from Wednesday. The Panthers left the 2021 season with major aspirations, but have had to figure out new roles after two key players -- All-Shore guard Elijah Perkins and 6-7 senior Ryan Zan -- transferred out of the school before the 2021-22 year.
Without Perkins and Zan, Braswell-Brown and Davis have moved into the starting lineup and have been instrumental throughout the course of the season, with Davis, in particular starting to carve out his role as a double-double threat. Buck (seven points) has also seen a significant increase in playing time as a sophomore.
"Zack and Drew are great players," Hester said. "With them, it's just been about finding their confidence, because they can really play."
Ranney was the Shore's deepest team over the past two years, with Holden often playing 11 players in important minutes. This season, the rotation has been cut down to six players playing the bulk of the minutes, with two more picking up spot minutes.
"It's a big difference, because last year, we ran so deep, if people get in foul trouble of have a bad game, they could be on the bench for the rest of the game," Braswell-Brown said. "This year, we don't have as much depth, so everybody has to be ready to play the whole game. Last year was a struggle for me, because I didn't feel like I could get going playing a couple minutes at a time, but this year, I have been able to play through it."
Hester, meanwhile, ties it all together as a junior who already has a First Team All-Shore selection under his belt as a sophomore.
"I've worked all summer to be ready to take on that lead role," Hester said. "I know I can do it and I want to show that I'm one of the better guards in New Jersey and I can compete with all the top guys."