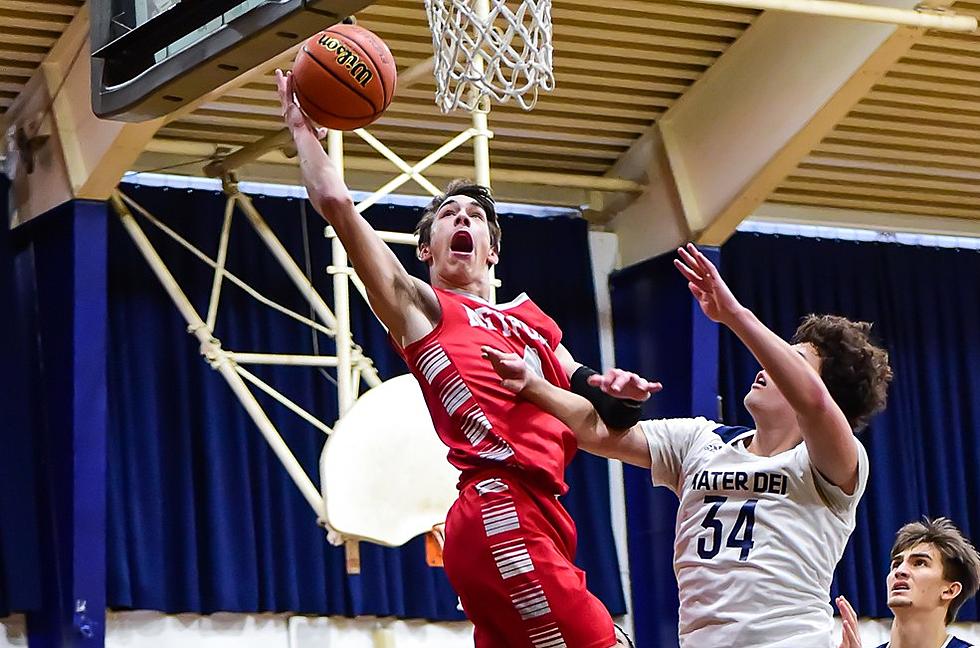 Boys Basketball – 2022 Shore Conference Tournament Opening Round Preview, Picks
Keyport senior DJ Thomson (Photo by Tom Smith | tspsportsimages.com)
2021 Boys Basketball Shore Conference Tournament Opening Round
Tuesday, Feb. 15
No. 17 Howell at No. 16 Manalapan, 4 p.m.
Two Class A North foes clash for a third time in the first game to tip on Tuesday evening. Howell and Manalapan split their regular-season series, with Manalapan rallying to win the second of the two meetings over at Howell. This one will be at Manalapan and it comes with the Rebels coming off a stronger finish to the season than the one the Braves had. Last week, Howell beat CBA on the road and came within four points of No. 4 St. John Vianney, while Manalapan dropped games to Rumson-Fair Haven and SCT non-qualifier Middletown South.
Manalapan has relied on seniors Mike Cerreto, Mike Bimonte and Gabe Blackwell for most of its offense, while Howell has boasted a more balanced scoring attack that incorporates all five starters into the offense. The emergence of junior forward Damien Padilla has been a boon for the Rebels and it is at the point where he is almost a given and the shooting of players like Zach Emery, Joe Dupuis, Dylan McVeigh and Nick Gallo are the x-factor. All of those seniors have come to play night-in and night-out so they should be in this one all the way with a big advantage if the shots are falling.
The Pick: Howell, 65-58
No. 27 Point Beach at No. 6 CBA, 5 p.m.
Junior Kevin Burns is one of the Shore's hottest players, so CBA will have its hands full trying to deal with a constant triple-double threat. The Colts started the year on fire and have cooled off considerably, going 4-5 in their last nine games after a 10-0 start. The offense has not quite clicked during that stretch while the defense has been very good as opposed to the best in the Shore Conference through 10 games. Ultimately, it just looks like CBA has lost come close games after winning some close ones early and is probably about what their record says they are.
As for Point Beach, the Garnet Gulls will need another brilliant effort from Burns and to do a good job protecting the ball and limiting CBA to one shot. If CBA can turn its defense up and force turnovers and high-difficulty shots, this will be a runaway.
The Pick: CBA, 66-44
No. 25 Shore at No. 8 Manchester, 5 p.m.
Shore will be giving up a lot of size, athleticism and experience in this game, but that is experience as it pertains to age. As far as relevant game experience, the Blue Devils should actually feel pretty good about this game because there is no team in this tournament better than the top two teams in Shore's division. The Blue Devils had to play four games against both Red Bank Catholic and Rumson-Fair Haven, not two mention two each against Raritan and Holmdel as well. Sophomore Alex George and Liam Gajewski have emerged as steady scorers for a Shore team that has come along nicely and won't be phased by Manchester's impressive collection of talent.
With that being said, Manchester does have an impressive collection of talent. The key for the Hawks is to bring a high-level of intensity to the first two rounds of the tournament, because they will be facing opponents that can capitalize on any lapses. For the most part, Manchester did a good job of avoiding letdowns throughout the season, but Shore and potential second-round opponent Brick Memorial (and even No. 24 seed Monmouth Regional) are more capable of challenging Manchester than any B South team other than Donovan Catholic. Manchester was up for those Donovan Catholic games and if they are up for Tuesday's game, they should roll into Thursday as a dangerous No. 8 seed.
The Pick: Manchester, 61-49
No. 23 Southern at No. 10 Holmdel, 5:30 p.m.
Two teams that reached the eight-team championship pod of the 2021 Shore Conference Playoffs face off in the first round of the 2022 Shore Conference Tournament. Holmdel beat Southern in last year's consolation round of that championship pod tournament and despite having a completely new starting five, the Hornets enter as the favorite over a Rams team with two key starters back from a year ago.
Holmdel comes into Tuesday on a roll, following up a lopsided loss at Rumson on Feb. 5 with four straight wins over teams with winning records (Middletown North, Raritan, Franklin and Red Bank). With four sophomores and a freshman in the starting five, the Hornets are indeed young, but have played the kind of schedule that helps a team grow up quickly. Southern will try to slow them down and Jaden Anthony can give the Rames a physical advantage, but Anthony and classmate Nick Devane will have a tough time scoring with Holmdel's weapons.
The Pick: Holmdel, 57-46
No. 22 Jackson Liberty at No. 11 Raritan, 6 p.m.
This game is a rematch of a Saturday-morning game at Jackson Liberty in which Raritan trounced the host Lions by an 18-point margin. Needless to say, there should be a lot more energy on both sides now that this is a tournament setting on a Tuesday night, especially considering that neither team has made much noise in the SCT in recent years. Jackson Liberty won its first and only SCT game in 2019, while Raritan has not won an SCT game since 2012, although the Rockets did advance via forfeit two years ago when CBA played too many games.
Both teams are led by seniors, with Raritan adding some impact to the lineup via its junior group of Jack O'Leary, Billy Tigar and Jack Coleman. The Rockets don't have an athlete like Jackson Liberty's Phanique Dupree, who will need a huge performance for the Lions to advance, but Raritan has a veteran point guard in Justin Rivera, a strong big man in Tyzaya Smith and plenty of battle scars from playing in a division with Red Bank Catholic, Rumson and Holmdel.
The Pick: Raritan, 51-45
No. 19 Middletown North at No. 14 Freehold Twp., 6 p.m.
Middletown North is still without do-it-all senior Tommy Giannone, but by now, the Lions are close to adjusted to playing without him. That does not, however, mean they are now as good as they were before he went down, but they will be ready to contend for a first-round win against a Freehold Township team that has been both steady and mercurial at the same time. The Patriots have not had what one might consider "bad losses" this season, so that hasn't been a problem, but they have both played top teams close and have been unable to stay with similar teams.
One thing Freehold Township has going for it is its athleticism and junior big man Jayden Holmes-Cotter. While Middletown North junior forward Zac Searight has come on strong in Giannone's absence, he will have his hands full dealing with Holmes-Cotter. For Middletown North to pull off the road win, the Lions will need to have a big day from beyond the three-point line, where they can be pretty dangerous when Matt Kenny, Mac Colantino and Luke Cerbo all get going. Shooting the three is not Freehold Township's forte, but the Patriots have a handful of guys who can get hot as well. If Freehold Township has its way, it won't need to match threes with the Lions and can ride its defense and Holmes-Cotter.
The Pick: Freehold Twp., 56-51
No. 28 Pinelands at No. 5 Manasquan, 6:30 p.m.
For Pinelands to compete against top teams like Manasquan, the Wildcats usually resort to drawing out their possessions and slowing the game to a crawl. During a four-game stretch from Jan. 31 to Feb. 5, Pinelands failed to score more than 27 points in any one game, including only 20 in a loss to Manchester and 18 in a loss to Point Boro. To the Wildcats' credit, though, they didn't give up more than 40 in any of those games and even beat Barnegat, 23-15, in a game that will live in infamy at the Shore.
Manasquan will likely have to deal with a slow pace, which the Warriors handled when facing Point Boro and St. Rose during divisional play. While Manasquan has plenty of youth on the roster, the Warriors play with maturity and should not be phased by what Pinelands is likely the try in order to keep it close. The score will be closer than one might expect from a 5-vs.-28 game, but Manasquan should remain in control.
The Pick: Manasquan, 48-33
No. 26 St. Rose at No. 7 Jackson Memorial, 6:30 p.m.
St. Rose might have been a tad under-seeded, which means Jackson Memorial might have a battle on its hands come for the fourth quarter of Tuesday night's first-round game. That is okay with the Jaguars, though, who have looked more comfortable chasing teams down than trying to protect leads. They rallied for wins over Raritan and Brick Memorial, while nearly coughing up a lead to Manchester in an overtime win and squandering a 20-point lead in a loss to Toms River North.
On the other side, St. Rose will look to keep this a halfcourt game while deploying senior forward Luke Farrell to the fullest extent. Farrell will need to go off, St. Rose will have to hit some shots and taking care of the ball is imperative against this Jackson Memorial defense. Expect St. Rose to come out with a good plan and hang around, but in the end, that Jackson Memorial press is going to be a problem. Watch out for a big finish from the home team.
The Pick: Jackson Memorial, 54-46
No. 24 Monmouth at No. 9 Brick Memorial, 6:30 p.m.
Monmouth battled some injuries but has gotten healthy in time to qualify for its first SCT appearance since 2010. Now, the Falcons are hoping to make the long wait pay off by springing a first-round upset over a talented Brick Memorial team with a lot of weapons. The Mustangs have a 6-7 shot-blocker and scorer in Luke Braaten and that might be the one element that the Falcons struggle to counter.
If there is hope for the Falcons, it will be courtesy of their own athleticism and the fact that Brick Memorial has not fared all that well outside of Class A South this season. Falcons junior Ta'haj Wiggins is also a standout rim protector in his own right and senior Kevin Telesford also provides some additional size that could benefit the Falcons. This looks like a legitimate upset possibility, but Brick Memorial has been through some tough games in recent weeks and should be ready for a scrap.
The Pick: Brick Memorial, 59-56
No. 21 Red Bank at No. 12 Ranney, 6:30 p.m.
This is a very tough draw for both of these teams, with a solid Red Bank team having to play a Ranney squad that had a case to be seeded as high as No. 6 or 7 and Ranney have to contend with a Red Bank team that has lost close games to Rumson, CBA and St. John Vianney (twice). On the flip side, there is a reason the two teams were not seeded higher, with Red Bank also taking losses to Toms River North and Lacey, while Ranney has a loss to Raritan and even had a close call in Class B Central play on the road against Keyport.
Red Bank has been hot of late, with a loss to Holmdel on Saturday ending a stretch of six wins in seven games. Junior Nick Valentino is in the midst of a major season, but to beat Ranney, the Bucs will need all hands on deck, plus another big scoring outing from its top threat. Collin Teter and Brian Tobin have been the players to deliver the secondary scoring most often so their contributions will be key, but the biggest factor will be preventing Ranney's secondary options from getting comfortable and preventing star junior Isaac Hester from completely going off. The magic number seems to be 26 points, so Red Bank is looking to keep Hester from reaching the quarter-century mark, but that will only matter if the Bucs keep the rest of the Panther weapons in check.
The Pick: Ranney, 65-55
No. 20 Keyport at No. 13 Donovan Catholic, 6:30 p.m.
It has been 13 years since Keyport won a Shore Conference Tournament game and this year, the Raiders are seeded five spots better than they were back in 2009, when they made it all the way to the SCT quarterfinals as a No. 25 seed. That year, the Red Raiders shocked Brick Memorial and Donovan Catholic on the way to the final and another one of those teams stands between the Red Raiders and another Cinderella run.
This year's Keyport team is more well-rounded than the team that made it to Brookdale 13 years ago and also has a star player to carry the load. D.J. Thomson will be the best player on the floor Tuesday night in Toms River and if the rest of the Red Raiders supporting cast can dig in defensively and score enough to keep the Donovan Catholic defense honest, Keyport will be in good shape. Donovan Catholic's advantage will be its size and athleticism, particularly on the glass and defensive end. If Donovan Catholic can get shooters like Vin Coburn going, Keyport will have a hard time keeping up. With that being said, Donovan has not hit the three consistently and if Keyport can make it a chore to score, the Red Raiders could be primed for another big run.
The Pick: Keyport, 60-59
No. 18 Point Boro at No. 15 Central, 6:30 p.m.
Despite going 16-2 with its only losses coming to Manasquan, Point Boro missed out on a home game in the first round of the SCT. The rub on the Panthers is that they did not play any noteworthy teams outside of the Class C North division, so this is their first real chance to put that critique to rest. Central's best wins, meanwhile, were also within its own division, although those were against top-10 teams Jackson Memorial and Brick Memorial.
The key to slowing down Central is to make Justin Soranno work hard for his 20-or-so points. If he is approaching 30, that means he is likely active on both ends and on the glass and if he puts up an efficient 20, that likely means Central's backcourt players are hitting shots. Getting back Miles Chevalier from a foot injury improves Central's prospects for this game and beyond, but the Golden Eagles will have to contend with a physical Point Boro squad that has players coming off the bench who have led the team in scoring during wins. That balance, physicality, winning experience and something to prove make the Panthers a problem on Tuesday night.
The Pick: Point Boro, 50-46