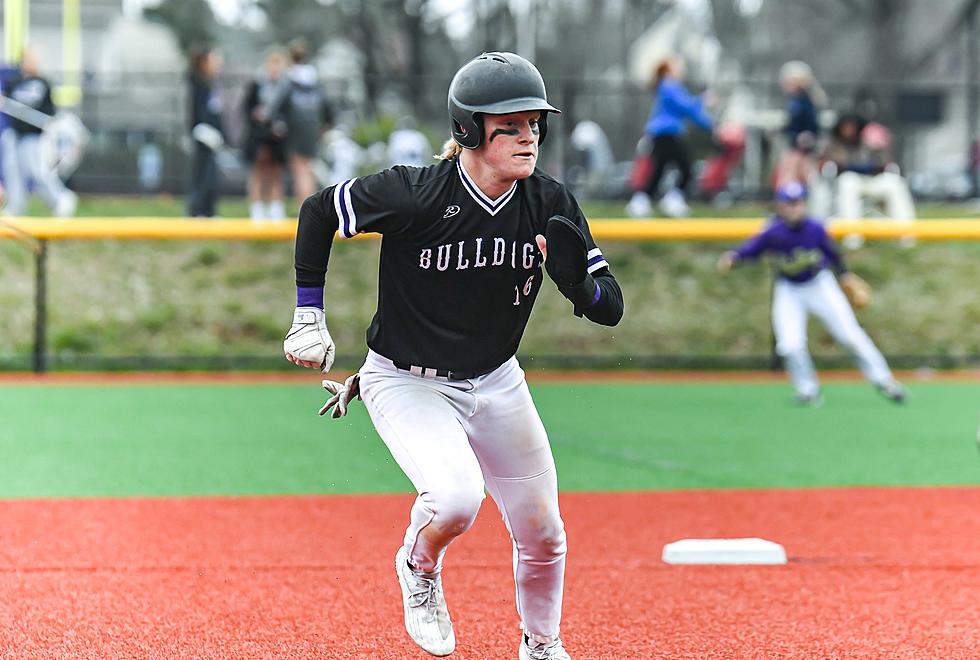 Baseball – Rumson-Fair Haven Ascends to No. 1 Spot in New Shore Sports Network Top 10
Rumson-Fair Haven senior Charlie Tallman. (Photo: Tom Smith | tspsportsimages.com)
A lot can happen in two days of high school baseball, so when there are 10 days between updated Shore Conference rankings, you have to figure there are going to be some significant developments that alter the picture.
On the other hand, the baseball season often takes a long, winding journey that often concludes where it starts when it comes to expectations: starting pitching matchups dictate the chances a team has on a given day and lesser teams beat superior teams rather frequently at every level.
In combing through the Shore Conference after the first 10 days of the season, there are some teams that have clearly improved and exceeded expectations and others who might not be as good as initially expected. In most cases, however, it's still a little early to render a judgement.
With that in mind, this week's Top 10 got a major overhaul relative to the first set of rankings in 2022, but that overhaul includes just one new team joining the Top 10. Still, there is a new No. 1 and three teams ranked in the top five that were at No. 7 or lower to open the season.
As always we'll start at No. 1, but it is a No. 1 we have never started with before.
1. Rumson-Fair Haven (4-0, 3-0) Last Week: 2
After getting to the brink of the No. 1 spot a few times over the last 10 months, Rumson has ascended to the No. 1 spot in the Shore Conference for, what is believed to be, the first time in program history. The Bulldogs have not hit the meat of the schedule yet, but there are a number of teams that slipped up against opponents that had losing records last season, so wins over St. Rose, Holmdel and Red Bank are still enough to bump the Bulldogs into the top spot. The pitching has been pristine, with the Bulldogs allowing only two runs in 25 innings.
2. Howell (4-0, 3-0) Last Week: 10
For the first six innings of the season, Howell battled just to score a run against Manalapan ace Tyler Kane. From that point on, the Rebels have kicked down the door, starting with four runs in the seventh inning of the 5-3 win over the Braves, followed by 29 runs in the next three wins – one each vs. Manalapan, Middletown North and Watchung Hills. On top of the 34 runs in four games, the Rebels have limited the opposition to eight runs.
3. Ranney (4-0, 2-0) Last Week: 9
The talented, junior-heavy Panthers opened the season at No. 9 needing only to turn that potential into wins and they have gotten right on the case. Ranney went up to Delbarton and beat the Green Wave, 7-5, then followed that up with decisive wins over Class B Central division rival Point Beach and Ferris to make it four straight wins to open the season. With a chance to line up their top three pitchers – Nick Coniglio, Marcello Mastroianni and A.J. Gracia – for non-division games, as well as a deep lineup, Ranney will be a tough team to beat throughout the season.
4. Central (3-1, 2-0) Last Week: 7
With only a loss to the No. 3 team in the state, Central is off to an impressive start, with senior Cam Leiter elevating his game over the last year and pitching like one of the state's top pitchers. The defending Ocean County Tournament champions also may be well-positioned for a run at the Class A South title after Jackson Memorial's early loss to Southern, but the Golden Eagles will be tested with a game against Toms River North to open the week.
5. Middletown South (2-2, 2-1) Last Week: 3
With Ben Schild on the mound, Middletown South has looked like the team that won the NJSIAA Group IV championship a season ago. Without him on the mound, the Eagles have been more of a work-in-progress. An 11-2 loss at Freehold Township might have been Middletown South's ugliest loss of the past two year, but the Eagles bounced back with a 4-1 win over Marlboro before losing a competitive game to Allentown.
6. Christian Brothers Academy (2-1, 1-1) Last Week: 5
The Colts have showcased their pitching depth through three games so far and the only bad inning they had was the first inning of the season. That three-run inning at Marlboro was thrown by Jackson Liberty junior transfer Zaine Toneske, who has since been zoned in at the plate (4-for-7 with a double and a home run). CBA remains a serious A North contender thanks to its deep pitching staff and with hot starts from Toneske and junior teammate Harrison Campi, the Colts could well be more than just a big-time staff.
7. Red Bank Catholic (2-2, 2-2) Last Week: 1
After spending most of 2021 as the No. 1 team and starting 2022 at the top of the heap, the Caseys take a six-spot tumble after losses to Shore and Monmouth. While those are eye-opening losses that perpetuated the fall from No. 1, RBC also beat Shore, 23-0, and Monmouth, 16-1, so there is also plenty of reason to expect the Caseys will be among the contenders in Monmouth County and the Shore Conference.
8. Jackson Memorial (2-2, 2-1) Last Week: 4
Jackson Memorial also got branded with a surprising loss, dropping a 6-4 game to Southern – which finished last place in Class A South a year ago. If the Jaguars are looking for some comfort, they can take solace in two things: first, they pummeled Toms River East in their next game behind a no-hitter by ace Zach Crotchfelt. Secondly, Jackson Memorial lost to last-place Central in 2019 and went on to win Class A South anyway. There is a long way to go and the Jaguars still have the look of an A South favorite.
9. Colts Neck (2-1, 2-1) Last Week: 6
Colts Neck and Wall traded 13-2 wins against one another, at which point the Cougars once again turned to their ace for a key game at St. John Vianney on Saturday. Anthony Gubitosi, who beat Wall in the season-opener, punched out 18 Lancers in a one-hitter to give the Cougars a key divisional win. Colts Neck's early-season, B-North gauntlet continues this week against undefeated Manasquan. Speaking of Manasquan…
10. Manasquan (4-0, 3-0) Last Week: Not ranked
The Warriors are the lone team to debut in this week's Top 10 and the credentials are enough to make a strong case to put Manasquan even higher. Sophomore Cullen Condon has been as dominant as any pitcher in the conference so far, which he showcased in a 14-strikeout, two-hit shutout vs. Wall. That came after a no-hitter vs. Red Bank on opening day. Luca Marshall also pitched a 14-strikeout complete game for the Warriors against Red Bank, a sign that Manasquan will be dangerous even when Condon is not on the mound.
Dropped Out
Wall (1-2, 1-2) Last Week: 8 – Outside of Ranney, Wall led the Shore Conference in scoring in 2021 and in a 13-2 win over Colts Neck that included 18 hits, the Crimson Knights looked like it. In the other 14 innings, though, Wall has scored just two runs on six hits.
Top 10 Watchlist
Jackson Liberty (3-0, 3-0) – The Lions swept defending South Jersey Group II champion Manchester and walked off with a win over Class B South favorite Donovan Catholic. All of a sudden, Jackson Liberty looks like the team to beat in B South.
Ocean (3-0, 3-0) – Ocean's wins are over teams (Raritan and Holmdel) that are a combined 0-6, but the Spartans appear to have their No. 1 starter in Matt King and currently sit atop the Class A Central standings along with Rumson.
Freehold Township (3-1, 2-1) – Since being no-hit in the season-opener, Freehold Township has not only won three straight; the Patriots have dominated with a 37-3 scoring margin during the three-game streak, including a win over Middletown South.
Monmouth (3-1, 3-1) – Although they took a 16-1 loss to Red Bank Catholic, beating the Caseys three days earlier in extra innings, which will make Monmouth a legitimate contender for the Class A Central title.
Marlboro (2-2, 1-2) – A split with CBA and a win over Barnegat to open the season has Marlboro in good position to hang around near the top of the Class A North standings and Monmouth County, especially with ace Tyler Villa lined up to face Middletown South, with the hopes of earning a season split with the Eagles.
St. John Vianney (2-1, 2-1) – After two wins over Neptune to open the season, St. John Vianney went toe-to-toe with Colts Neck, losing to the Cougars despite another strong outing from junior ace Aiden Cody.
Southern (1-1, 1-1) – The Rams no-hit Jackson Memorial for the first five innings of a 9-0 Jaguars win in the season-opener, then rallied to win the second game of the series against the three-time defending Class A South champions.
Shore (2-2, 2-1) – A year after going winless in divisional play, Shore is already 2-1 in Class A Central play with a wins over two teams (Red Bank Catholic and Raritan) that played in NJSIAA sectional finals last season.
Toms River North (2-1, 1-1) – The Mariners had a loud start to the season with a 12-2 win over Brick Memorial and have had strong pitching to open the 2022.
Brick Memorial (3-1, 1-1) – After getting rolled by Toms River North, 12-2, in the season-opener, Brick Memorial has reeled off three straight wins, including a 1-0 payback win over the Mariners.