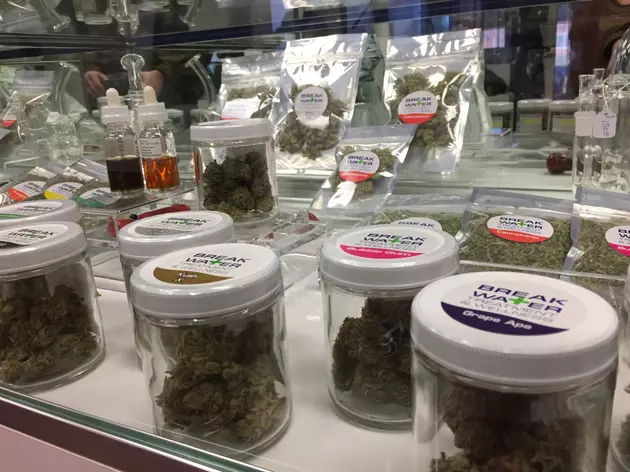 Alcohol more dangerous than weed, NJ health commissioner tells lawmakers
Medical marijuana is displayed for sale at the Breakwater Alternative Treatment Center in Cranbury. (Michael Symons/Townsquare Media NJ)
TRENTON — While the debate over legalizing marijuana heats up, a less controversial effort to improve medical marijuana access will reach a key milestone by the end of next week.
Acting Health Commissioner Shereef Elnahal told the Senate Judiciary Committee at his confirmation interview that the review of the medical marijuana program ordered by Gov. Phil Murphy would be done by its March 24 deadline.
"We have an entire slew of recommendations and efforts that we intend to undertake to improve access," Elnahal said.
The Jan. 23 executive order says that when the review concludes, the state Department of Health and Board of Medical Examiners "shall initiate the rulemaking process for appropriate regulatory reforms."
Elnahal wouldn't provide details but said they would address concerns from patients, doctors and the alternative treatments centers.
Senate Majority Leader Loretta Weinberg, D-Bergen, urged quick action.
"Wherever we go on legalization, decriminalization, whatever we do, I think it is really imperative that the medical marijuana program get straightened out very quickly," Weinberg said.
Senators didn't press Elnahal on why the Murphy administration hasn't more quickly moved to expand the medical marijuana program while the broader review takes place, which it could have done by approving a recommendation made by a state review panel in October.
That recommendation calls for the Health Department to expand the list of conditions that make a person eligible for medical marijuana to include chronic pain, migraines, anxiety and Tourette's Syndrome. Elnahal has six weeks to rule on the potential change.
"We have a review panel that has recommended conditions by which we could expand medicinal marijuana. We've been reviewing that very closely, and we will be commenting on that at the time of the release of the report," Elnahal said.
Marijuana was a recurring theme at Elnahal's confirmation interview – the prospects of legalizing it for recreational use by adults, as much as the plans for improving the medical program.
"Have you ever seen, in the history of the world, a case where somebody died from overuse of marijuana?" asked Sen. Nicholas Scutari, D-Union, the committee chairman and the Legislature's leading advocate for legalizing it for adult use.
"I have never seen that," Elnahal said.
Elnahal later said alcohol is more dangerous than marijuana. But he also said if it's legalized, emergency room workers would need to be able to recognize the signs of overdose or overuse of marijuana, which he said is mostly a risk for edibles.
Elnahal said marijuana can be helpful in combating the opioid epidemic as an alternative for dealing with pain. He said his perspective is framed by his experience treating cancer patients at Johns Hopkins Hospital.
"Even though we didn't have medicinal marijuana there, we were not allowed to administer it to patients, I saw a lot of patients who we did not need to prescribe opioids to because they were obtaining it through the illegal market. And they said it was good for their pain," he said.
Elnahal says a study showed opioid-related deaths fell by more than 6 percent in Colorado after marijuana was legalized there.
In addition to Elnahal, the Senate Judiciary Committee endorsed the nominations of Robert Asaro-Angelo as commissioner of the Department of Labor and Workforce Development and Carole Johnson as commissioner of the Department of Human Services.
The full Senate is expected to vote to confirm the nominees on March 26.