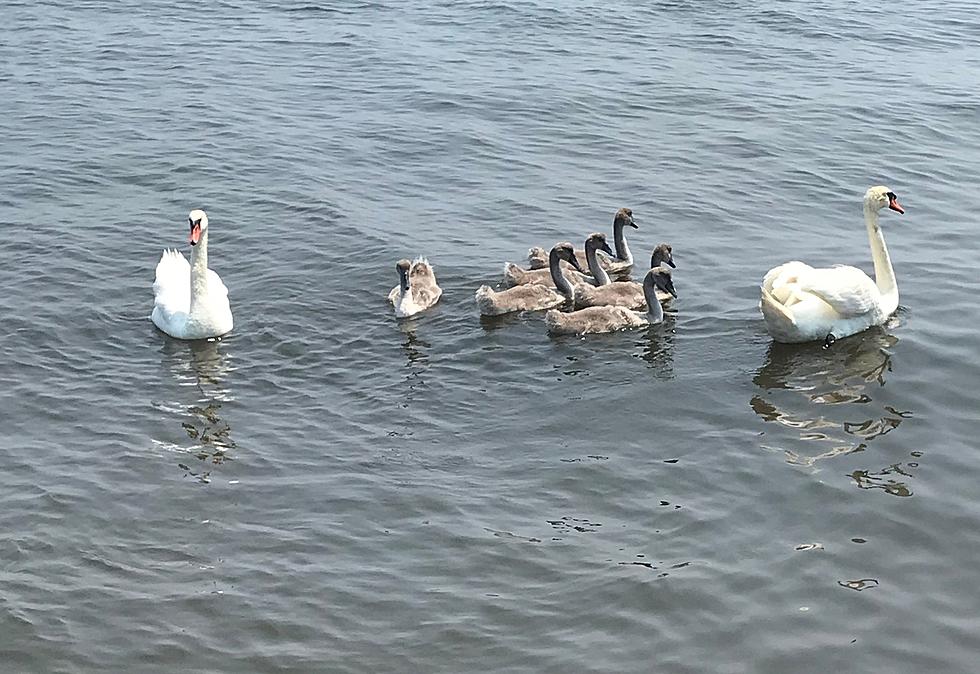 'Aggressive' swan in NJ targeted for death: Brick residents fight to save its life
Alfie, the male swan, his companion and six babies swimming in Brick's Seawood Harbor
Photo Credit: Irene Almeida, Brick resident
BRICK — Federal wildlife management officials say they plan to euthanize a male swan in  that has been deemed too aggressive.
But some township residents are hoping to save the bird's life, urging it be relocated instead.
Residents told News 12 New Jersey that the swan is simply protecting its young in Brick's Seawood Harbor. But the U.S. Department of Agriculture said the bird is too aggressive. When that happens, the solution in most cases is to trap and kill the swan.
Other neighbors have also said the swan's aggressive behavior has been fueled by people taunting and badgering the bird and its family. Fast moving water vehicles don't help, either, because the swans get defensive.
The only way the swan could be saved is if the state Division of Fish and Wildlife issues a permit allowing relocation. If not, the bird will be killed.
Three Brick residents have personally been spearheading the mission to save the male swan, affectionately named Alfie, his companion and their six babies. Tonianne Neri, Irene Almeida and her husband Tony Almeida have applied for a permit with the NJ Division of Fish and Wildlife to relocate the swan family.
Neri told New Jersey 101.5 she also reached out to John Bergmann, director of The Popcorn Park Zoo in Lacey Township for help. While Bergmann has nothing to do with the permit, he told her and confirmed with us he is on board and ready, when needed, to help capture the swan family and bring it to a refuge.
Irene Almeida also told us that right now they are just waiting for a response from Fish and Wildlife as to whether or not the permit will be approved.
She said until then, Alfie (who was given the name by Brick residents well before this incident even occurred) and his family parade up and down the lagoon. Residents, including herself and her husband go out on the lagoon on a regular basis to check on the birds. Alfie has been around the harbor for a long time and has become a fixture within the community, Almeida said.
Other residents have pleaded with Mayor John Ducey to help obtain the permit to allow the swan family to be relocated.
Ducey told New Jersey 101.5 that he heard about the swan last week and the great plan to relocate the swan to perhaps the Popcorn Park Zoo.
Ducey said when he learned that a permit to relocate is necessary from the state Fish and Wildlife, he said he has been working to get that permit going.
"I have been advised that a biologist is reviewing the matter. Hopefully the hard work pays off and Popcorn Park Zoo receives the permit to relocate the swan," Ducey said.
Almeida said Ducey has been completely on board to help save the life of Alfie and his family in any way possible. She also reached out to Senator James Holzapfel's office in Brick for help. "His office has been 100% on board and his chief of staff loves animals," Almeida said.
Holzapfel's office also reached out to the State Division of Fish and Wildlife office and the following is their response:
"The Department is taking the issue seriously and we are coordinating internally with our Federal partners at USDA.  A response should be forthcoming."
Stunning Jersey Shore rentals, steps from the beach
Here are 10 houses along New Jersey's coastline for an Insta-ready beachfront staycation.
Famous NJ people from A to Z (almost)
LOOK: Here are the 50 best beach towns in America
Every beach town has its share of pluses and minuses, which got us thinking about what makes a beach town the best one to live in. To find out,
Stacker
consulted
data from WalletHub
, released June 17, 2020, that compares U.S. beach towns. Ratings are based on six categories: affordability, weather, safety, economy, education and health, and quality of life. The cities ranged in population from 10,000 to 150,000, but they had to have at least one local beach listed on TripAdvisor. Read the
full methodology here
. From those rankings, we selected the top 50. Readers who live in California and Florida will be unsurprised to learn that many of towns featured here are in one of those two states.
Keep reading to see if your favorite beach town made the cut.