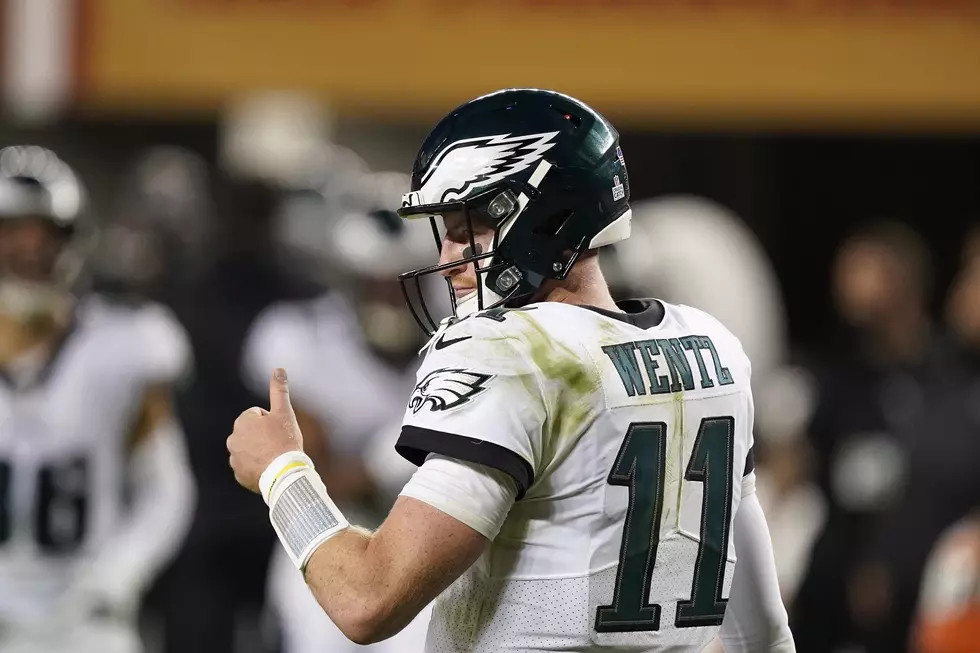 A Win for the Eagles and New Shore Coaches
Philadelphia Eagles quarterback Carson Wentz (AP Photo/Tony Avelar)
A little of this and a little of that on the first Monday of October:
You certainly have the right to say that President Trump and his staff have nobody to blame but themselves for being infected with COVID-19 but those that have used social media to wish ill will towards Trump are going way too far.
Regardless of how you feel about his politics he is still the President of the United States and a full recovery is what is best for the nation. Meanwhile Trump's decision to leave Walter Reed Medical Center Sunday for a brief period to salute supporters from his motorcade before returning to the hospital was at best a bad idea and at worst shows despite being sick he really does not understand the severity of the virus.  The president is expected to be discharged today.
We have seen in Ocean County recently a surge in positive cases and the same is happening in New York City.  As a matter of fact Mayor Bill de Blasio wants to put parts of the Big Apple on lockdown beginning Wednesday which would shut all non-essential businesses, including restaurants (which just opened) and make schools go fully virtual.  The move would impact nearly 500,000 people in Brooklyn and Queens.
The Eagles gave local pro football fans something to smile about following an upset win over the 49ers last night and with a 1-2-1 record are now in first place in the miserable NFC East.  Meanwhile the Giants latest lost means the two teams that call New York home even though they play in New Jersey are a combined 0-8.
That means for many their only sports hope is the Yankees who begin their American League Division Series against the Tampa Bay Rays tonight in San Diego's Petco Park.
Belated congratulations to Central Regional's Jarrett Pidegon and Manchester's Brian Wilkinson for successful coaching debuts over the weekend as the high school football season opened.  The Hawks win over Lacey was the first in school history and would have been the stunner of the weekend if not for Toms River South's upset win over highly-regarded Toms River North. That victory came in a coaching debut of sorts. Matt Martin was the interim head coach of the Indians as Ron Signorino Jr. was sidelined with an illness.