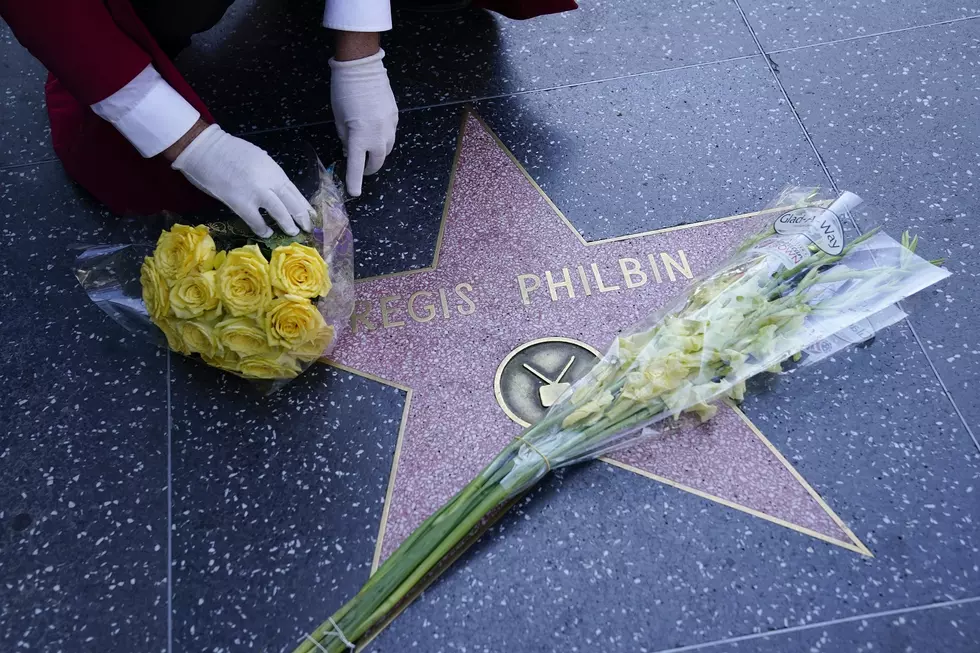 A Good Guy Who Made It to the Top
Flowers on Regis Philbin's star on the Hollywood Walk of Fame (AP Photo/Ashley Landis)
Let's call this Monday Musings to start the final week of July:
Another summer weekend of demonstrations and violence across this country including cities like Portland, Seattle, Atlanta and closer to home New York.  We have long passed these simply being Black Lives Matter protests but rather sorry excuses to destroy, deface and damage.
It's criminal behavior that should be treated as such by those who are not seeking reform but rather simply feel they have a reason to cause carnage.
Baseball is back and it is very strange to watch these games in large stadiums with no fans, unless you want to count the cardboard cutouts some teams are "filling" seats with.  Just as strange is not only the artificial crowd noise but the PA Announcer introducing batters like the stadium is filled.
Of course some things have not changed. The Yankees find ways to win games they should not and the Mets, well I'll leave that for another day.  3 games down and 57 to go.
You might have heard on Sunday that President Trump announced he will not throw out a ceremonial first pitch at the Yankees-Red Sox game on August 15th just a few days after saying he would do so.  Trump said his schedule will not allow him to be in New York on that date but he will try and make it up sometime this season.
You do wonder if maybe the President was a bit worried that he might duplicate the efforts of Dr. Anthony Fauci who bounced one rather embarrassingly to start the season last Thursday in Washington.
When someone well known dies you often hear a lot of false eulogies about what a great person they were.  They are not sincere but rather seem to be the right thing to say at the right time.
Such was not the case with the weekend passing of TV host Regis Philbin, who was admired and most importantly liked by just about everyone.  The words of praise for the native New Yorker from all across the country were heartfelt and Regis is truly someone who will be greatly missed.  Simply a good guy who made it to the top.