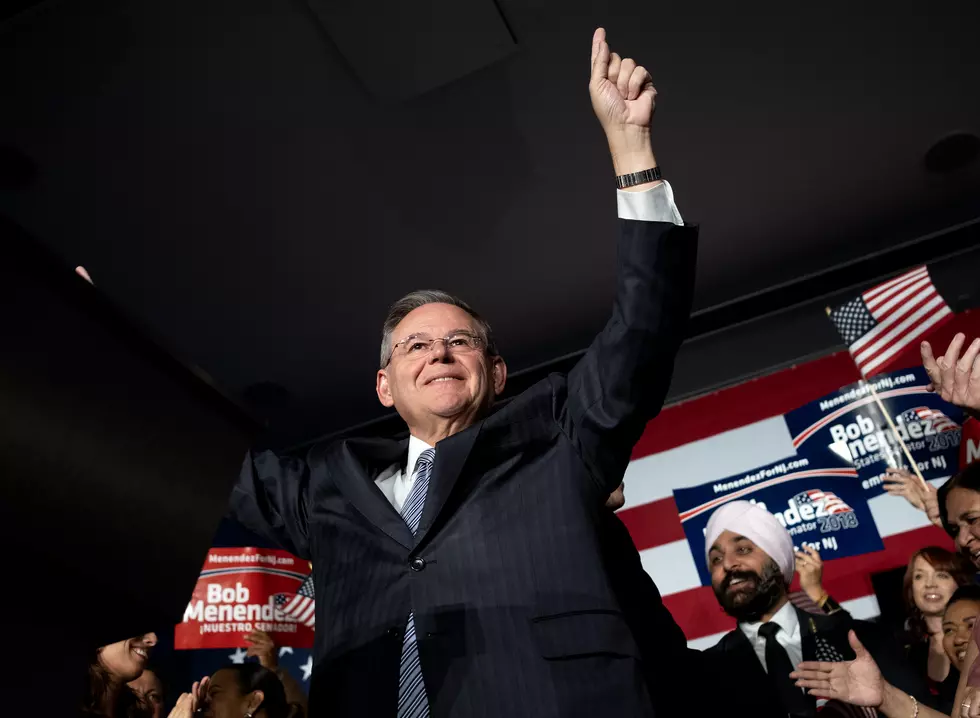 A Blue Wave Crashes Over New Jersey
Democratic Sen. Bob Menendez celebrates at his campaign headquarters in Hoboken (AP Photo/Craig Ruttle)
We woke up this morning the same way we went to bed: a country very much divided politically and in many other ways.
As expected Democrats have regained control of the House of Representatives which will likely result in some challenging times over the next two years for President Trump who no doubt was the single biggest "issue" on Election Day.
We do not have to look far as right here in New Jersey several of the races went to Democrats whose campaign focus was on opposing the President and his policies…and it seemed to resonate with voters in a state that is very much blue.  With a small majority to work with it will be interesting to see the moves Democrats make against Trump on a variety of issues leading up to the 2020 Presidential election in which he is expected to seek a second term.
Losing control of the Congress during a first-term is somewhat expected as it happened to Presidents Clinton, Bush and Obama all three went on to win re-election.
Republicans did have something to celebrate during these mid-term elections as they strengthened their majority in the Senate which was somewhat expected but nonetheless good news for the GOP on a night when Democrats scored what you could call a split-decision victory across the country.
In New Jersey Democrat Bob Menendez was re-elected to the Senate rather convincingly over Bob Hugin despite being indicted on federal corruption charges in a case that ended with a hung jury.  New Jersey has not elected a Republican to the Senate since 1972 and despite ill feelings about Menendez by many in his own party he came out on top running on the anti-Trump message that worked in many places.
There are still several races that have not been decided or will clearly result in recounts and one of them directly impacts Ocean County.  Republican incumbent Tom MacArthur has a narrow 2,000 vote lead over Democrat Andy Kim in the 3rd congressional district which includes Burlington County.  This was a nasty and hotly contested race and if MacArthur hangs on he'll have Ocean County to thank as he carried the county by 30,000 votes.
Political experts will debate the results in days and weeks to come and we'll find out if Democrats and Republicans can start working together in a more bipartisan effort which is what the public really wants.