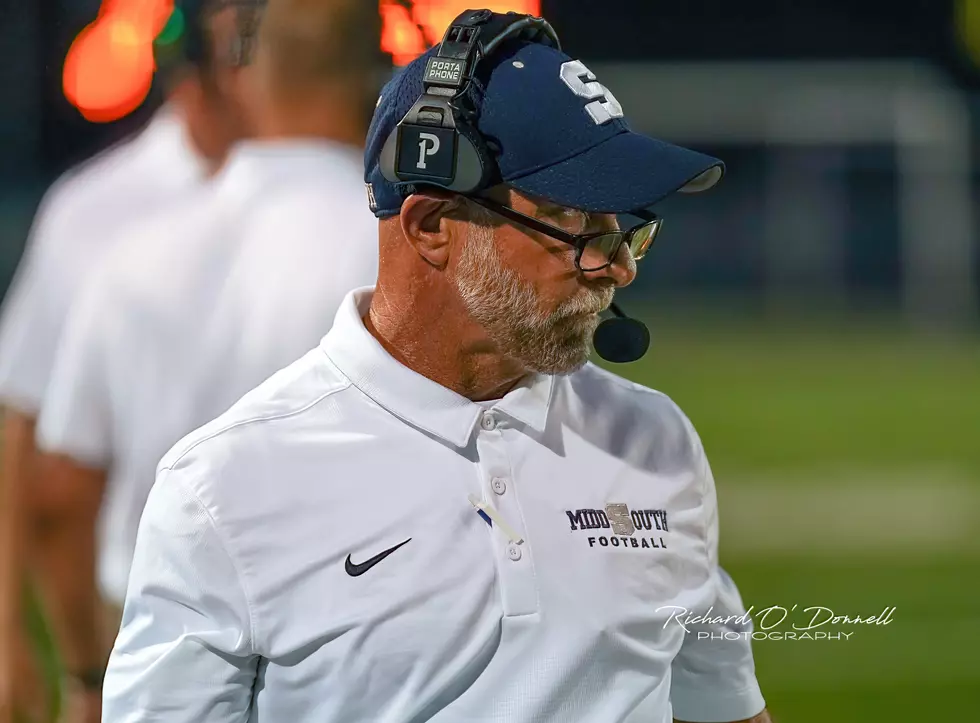 2022 All-Shore Gridiron Classic – Meet the Coaches: Steve Antonucci
Richard O'Donnell
When discussing the coaching legends of Shore Conference football one name that must come to mind is Middletown South's Steve Antonucci.
Upon grabbing the reins of the Eagles in 1998, Antonucci took an already established program with a championship pedigree and pushed it to another level, winning six NJSIAA sectional championships and reaching the championship game six additional times. The Middletown South 'S' is recognized statewide and garners respect and admiration from the mountains of Sussex County to the shores of Cape May.
This past season, Middletown South went 9-2, reached the North 2, Group 4 sectional championship game, and finished No. 4 in the Shore Sports Network Top 10. The Eagles also captured the Colonial Division title, the program's 12th during Antonucci's tenure. Middletown South's talented roster featured a total of seven SSN All-Shore selections, led by First Team picks Jack Latore, Jake Williamson, and Tom Schork. Latore was a dominant edge presence with 5.5 sacks, 25 tackles for loss, 89 total tackles, and three fumble recoveries. Williamson was the top lineman for an Eagles team that rushed for 187 yards per game and was also an impact player on defense with 36 tackles, 3 sacks, and 6 tackles for loss. Schork was an invaluable two-way leader for Middletown South as the Eagles' quarterback and standout cornerback, throwing for 802 yards and four touchdowns, rushing for 453 yards and seven touchdowns, and intercepting a pass on defense. Senior linebacker Jack Willi was a Second Team All-Shore selection and senior running back Dan Primiano was a Third Team All-Shore selection.
Middletown South also had a pair of outstanding sophomores earn All-Shore distinction. Linebacker Colin Gallagher quickly established himself as one of the best pass rushers in the conference and led the Shore with 12 sacks plus 83 tackles, 19 tackles for loss, and 3 forced fumbles. Jake Czwakiel was a standout on defense and special teams for the Eagles, tying for the conference lead with five interceptions and posting 45 tackles and 5 pass breakups. He was also one of the Shore's best kickers, converting 25 of 27 extra points and kicking five field goals with a long of 31 yards.
Antonucci will begin his 25th season this fall, but before that he will lead the Monmouth County all-stars for the 43rd annual All-Shore Gridiron Classic. Monmouth has won the last three meetings after its 21-6 victory in the 2019 game. A victory during this season's game on Wednesday, July 13 at Brick Township High School would set a Gridiron Classic record for consecutive wins.
In 2015 Antonucci was inducted into the Shore Football Coaches Foundation Hall of Fame and since then his teams have continued to compete at a high level. In 24 seasons, Antonucci has an incredible career record of 206-61 (.772 winning percentage) along with six sectional titles and 12 total appearances in the final. He is the sixth Shore Conference coach to reach 200 career wins and his six sectional titles are tied with Brick's Warren Wolf and Keyport's Mike Ciccotelli for the second-most in Shore Conference history. His teams have won 10 or more games eight times, including undefeated seasons in 2001, 2003, 2004, 2005, and 2015. The Eagles' most recent state championship team also finished No. 1 in New Jersey. From 2001 through 2006, Middletown South was the Shore's most dominant team and a state powerhouse. The Eagles won four straight state titles from 2003 through 2006 and during that stretch authored a Shore Conference record 43-game winning streak.
Antonucci was also Middletown South's baseball coach for 15 years, winning three state titles and two divisional titles.
"Nooch" played his high school football at Keyport under Hall of Fame head coach Mike Ciccotelli, graduating in 1988 before moving on to Montclair State University.
Antonucci and several members of his coaching staff will lead a Monmouth County squad that includes Middletown South standouts Jack Willi and Ryan St. Clair. Also, all five head coaches in Middletown South program history - Antonucci, Bob Generelli, Keith Comeforo, John Andl, and Rich Mosca - will be part of the Monmouth County coaching staff.
Stunning New Jersey Mansion on the Beach the Best on the East Coast