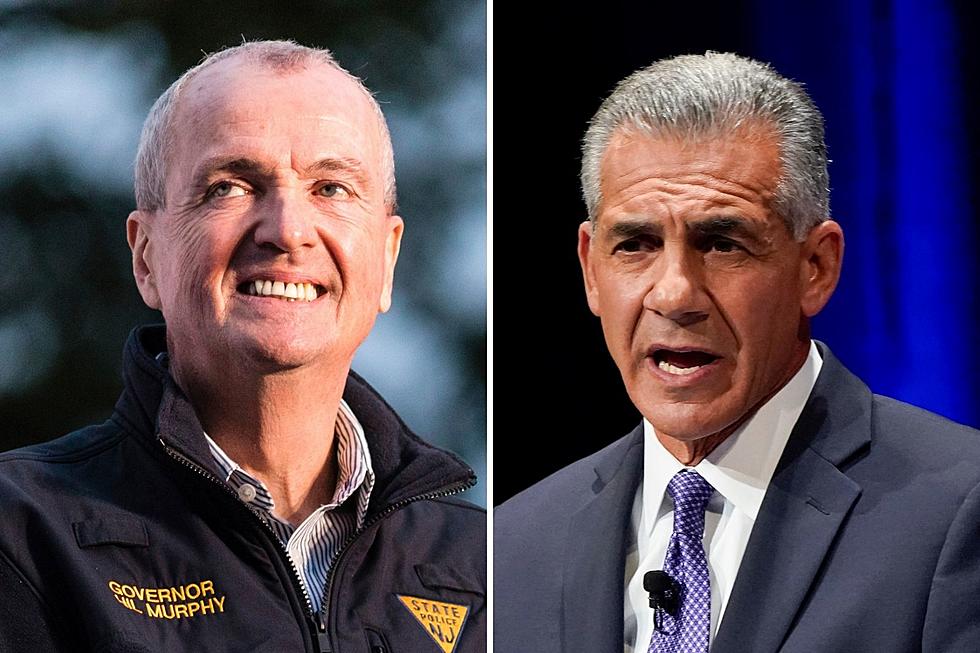 2021 NJ gubernatorial election results: We count all the votes
Phil Murphy and Jack Ciattarelli (AP photos)
---
UPDATE: 6 a.m. Wednesday
Gov. Murphy edges ahead but race essentially tied
---
Election Day results in New Jersey are turning out to be much closer than polls and political watchers had expected.
On Tuesday night, New Jersey 101.5's newsroom will be covering this closely watched race from start to finish, reporting on all the results as they come in from the county clerks' offices. Every vote matters and we want to make sure every vote is counted.
Live results will be posted on this page, continuously updated through the night.
Several hours after polls closed, and still with many districts to be counted, Republican Jack Ciattarelli appeared to be in a slight lead over Democratic Gov. Phil Murphy.
New this year: early voting, which began two Saturdays before Election Day at 139 locations.
Problems at the polls
The ACLU of New Jersey and the League of Women Voters filed suit late Tuesday to ask a judge to extend polling hours to 9:30 because of widespread reports of irregularities at polling places. The judge denied the request.
In some counties, voters and poll workers encountered internet connectivity problems with new electronic poll books, which caused early-morning lines to back up.
Henal Patel, director of the Democracy and Justice Program at the New Jersey Institute for Social Justice, said his group was "hearing of issues in a number of places around the state – some places bigger issues than others," including in Piscataway, Jersey City and Passaic County. Voters also reported problems in Monmouth County.
The state Attorney General's Office and the Jack Ciattarelli campaign both opposed a blanket extension of polling hours, suggesting that a more targeted approach would suffice if evidence exists of problems at a specific location.
After 7 p.m., some polling places were reporting 45-minute lines. Even if polls close, every voter waiting on line will have the right to vote.
Voters can also vote provisionally at a polling site if voting machines malfunction or they are unable to sign in electronically.
At the Murphy campaign HQ
New Jersey 101.5 Statehouse Bureau Chief Michael Symons will be reporting live from the Murphy campaign in Asbury Park.
At the Ciattarelli campaign HQ
New Jersey 101.5 reporter David Matthau will be providing live updates from the Ciattarelli election night headquarters in Bridgewater.
What's at stake tonight
Voters will be deciding whether to give another four years to Democratic Gov. Phil Murphy after presiding over one of the most consequential health crises in the state's history or to elect his Republican challenger, former Somerset County assemblyman Jack Ciattarelli, who's criticized the administration's handling of the COVID-19 pandemic.
Major polls have placed Murphy in the lead in a state that in recent decades has been reliably Democratic during presidential election years but whose voters last rewarded a Democratic governor with a second term in the 1970s.
While Murphy should be a frontrunner, he's been running as if the race is close. His campaign has gotten boosts with Garden State visits by former president Barack Obama, President Joe Biden, Vice President Kamala Harris, and Vermont U.S. Sen. Bernie Sanders. 
Ballot questions
There are two statewide questions on the ballot. Here are our explainers on them:
Download our app and subscribe to news alerts to get important updates during election night.
Sign up for our free newsletter to get our latest award-winning news coverage and analysis you trust straight to your inbox.
2021 New Jersey gubernatorial election information
---
---
---
---
---
Early voting locations in each NJ county
Each county in the state will have between three and 10 early voting locations, open daily for the 2021 general election from Oct. 23 through Oct. 31. The sites will be open from 10 a.m. to 8 p.m. except for Sundays, when they will close at 6 p.m.