The Year's First Ask The Congressman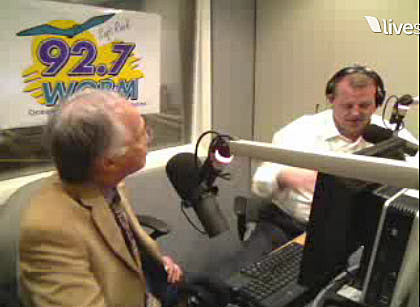 3rd District Republican Congressman Jon Runyan gives his constituents an update on some of the very public and controversial issues at home and on Capitol Hill on WOBM's Ask The Congressman Wednesday night.
Runyan addressed changes in the Congressional Map following redistricting where he picks up Brick and most of Burlington County but loses parts of Southern Ocean County which includes Long Beach Island and a part of Stafford Township. Runyan says what it means is that "there's people that I've never been in front of in a political sense and sold myself to them. So that's something where you're going to have to pay a little bit more attention to and at the same length, not ignoring the people that elected you the last time around. Runyan says he's planning to introduce himself to his new constituents early in the next month or two and listen to their concerns and try to help them solve their problems.
THE RACE FOR THE WHITE HOUSE
While Runyan hasn't endorsed a Presidential Candidate he's watching the debates and primaries closely and has no shortage of opinions. So far, it appears he's starting to favor one contender over the others. "I think when you step back and you look at where Mitt Romney has been, he hasn't really moved at all. He's been the stable one in the whole thing. He was out front and he's been out front."
With regard to his own political aspirations, Runyan says he's running for re-election but hasn't made a formal announcement. What he does say is "here in the next month or so we'll have our big announcement that we're officially in and we'll move forward with that type of stuff because November is only 11 months away."
THE PAYROLL TAX STANDOFF
Runyan defends Congress's payroll tax standoff in Washington. He says it has nothing to do with the House's ability or inability to compromise. He says House Members simply wanted the Senate to help craft a longer term solution and not kick the bill down the road for two more months. He says their only concern was for the small business owner who's now tied up in paperwork and the prospect of hiring Attorney's and Accountants because Washington can't make up its mind. He says "If people know what the rules of the game are, it's pretty easy to devise a game plan to play the game but when you change the rules every six months, it's kind of hard to play the game and that's really what we were trying to avoid in that whole situation just by extending it for a year."
IRAN'S THREAT TO THE US
Runyan believes the whole Iranian threat and threat it poses to the U.S. oil needs as another reason for the U.S. to make serious changes to its Energy Policy. He believes a proposed gas pipeline from Canada is a step toward the U.S. gaining energy independence as we receive fuel from our friendly neighbors to the north that we already receive half our oil from anyway.