Super Sunday is Here
Sunday's football game in New Jersey is called the Super Bowl. That is unless you are promoting it for some commercial advantage in which case it's the "Big Game" which might be as stupid a title as you can get.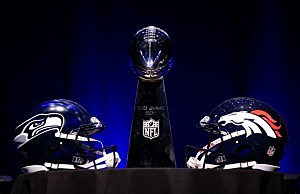 It's not the biggest game worldwide as soccer's World Cup Final later this year will be viewed by many more then will gather around their TV sets this Sunday.  However make no mistake about it the Super Bowl is big as the last four have been the four most-watched TV programs in history although last year marked the first time since 2005 that the average audience did not increase from the year before.
The highest rated Super Bowl remains in 1982 when the 49ers beat the Bengals in a game played it what was then the Pontiac Silverdome.  That was the first of the Joe Montana-led 49er teams and more than 49% of households were glued to their TV sets.  A couple of other facts in regards to TV.  I mentioned that the last four Super Bowls are the most-watched programs in history when it comes to total viewers and that's bumped the MASH finale in 1983 to fifth place.
Also 18 of the 20 highest-rated sporting events on TV have been Super Bowls and the other two were women's figure staking events during the 1994 Olympics when Nancy Kerrigan and Tonya Harding went head-to-head.
The experts are predicting big numbers for Sunday's Broncos-Seahawks matchup even though both teams are from the West and neither has a national following.
It's the fifth time in Super Bowl history that the game matched the NFL's number one offense against number one defense.  Three of the previous four were won by the team with the better "D" which is a good omen if you're a Seattle fan. The only two I know are Toms River South teacher Gavin DeCapua and Toms River resident Mike Krenek.  I'm happy for Gavin who is a true fanatic but because he's going to the game our group will be watching in our homes which is boring.
Despite that I'm sure some of us will add to the 1.2 billion chicken wings that will be consumed and I might even wash some down with a beer or two…more than 50 million cases will be sold.   The good news about staying home is you'll be safe as more people will be involved in alcohol-related accidents this Sunday than any other day, outside of St. Patrick's Day.
My heart says Denver will win because I like Peyton Manning but here is another fact that favors Seattle.  In 18 of the last 21 Super Bowls the city with the lower unemployment rate has prevailed and that's Seattle…by a very slight margin.  However I'll go with the Broncos 30-23.