New Orleans Tourism Official Gives Advice to the Jersey Shore
Members of the Jersey Shore's hospitality and business industries get recovery strategy from the Gulf Coast.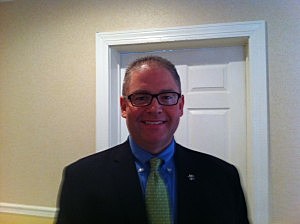 Jeff Anding, Director of External Affairs, with the New Orleans Convention & Visitors Bureau, was the Keynote Speaker at a recent luncheon hosted by the Monmouth Ocean Development Council.
Anding spoke about a step by step process that took years but says that New Orleans is showing strong signs of recovery after being slammed by Hurricane Katrina.  He says those steps included "getting the word out about where we were, how the state of the city affected the whole area and then moving forward with infrastructure improvement and public perception improvement, which obviously was severely damaged after the storm."
However, Anding also got a chance to visit some of the hardest hit communities in Ocean and Monmouth Counties along with areas that are in the process of recovery and he was able to hear the very real concerns of the shore's business leaders who were impacted by the Superstorm.
Business leaders told Anding that Superstorm Sandy didn't affect the entire New Jersey coast equally, with coastal communities to the south mostly spared from damage, while communities to the north bore the brunt of the storm.
However, Anding told them that New Jersey's coastal communities need to unify. "That's to stand up the area all along the Jersey shore, all the way from Atlantic City up to Sandy Hook and getting folks working together to raise the bar on recovery, getting folks back into their jobs, getting businesses back up and running especially in the hospitality industry because that is the message that gets taken out to the rest of the country and will help recovery speed up that much faster."
Of course he says getting that message out is costly.  He spoke about the challenge in getting revenue to spend on advertising to attract tourist and give people an update on where New Orleans was in its recovery process.  In fact, he says it took three years before the news cycle about New Orleans turned from negative to positive.
Anding says the tourism industry played a major role in helping New Orleans' economy recover. "In my opinion it was essential. Not only is it the public persona of the city, the destination management organizations become the carriers of brand of the city if you will, and that means that that is the perception that the rest of the world sees."
In offering steps toward the Jersey Shore's recovery, he says "the first thing is getting the word out about the state you're in now, project where you're going and what the time lines are expected to be in different points in recovery, than raising the awareness about how the experience is the same or better, adding more and more P.R. and advertising to that."