Foodbank Needs Your Help For Thanksgiving
Ahh, Thanksgiving. It's always a fun time in my household. My mother always prepares a royal feast with all the goodies. Turkeys, cranberries, sweet potatoes. This year, my wife is making the stuffing which promises to be good as I'm the official taste tester. While we all sit down for fun and family time, we must also take the time to realize that not everyone can be so lucky.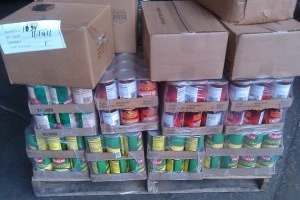 The Foodbank of Monmouth and Ocean Counties are being overwhelmed with requests for food and assistance while donations are down. Last year, the organization provided over 10,000 families with turkeys. This year, the number of inquiries has risen to well over 12,000. The group has the responsibility of bringing those items to food pantries, soup kitchens, shelters, churches, synagogues – you name it. It's a task they don't take lightly and they want to help as many people as possible.
A local grocery store in Neptune delivered 1,500 turkeys for distribution on Thursday. They still need donations as they get down to the wire because of the tough economy. Director of Development for the Foodbank Linda Keenan says she's never seen it this bad and even though the recession was declared over, you wouldn't know it.
Keenan says ""We hope to have enough food for the Thanksgiving holiday, we are right at this moment in time 2,000 turkeys short but the community has always helped us in the past and we encourage anyone, if you have turkeys please drop them off."
Often times, local grocery stores offer free turkey's or ham's to anyone who uses a club card all year round and meets a certain dollar amount spent. Keenan says check with the store because sometimes, that extra hunk of meat can go as a donation if you already purchased your own main course for the big dinner.
The Foodbank distributes 7 million pounds of food annually to a network of about 260 hunger relief organizations. Last year these agencies distributed food to over 127,000 people in need in both counties. For more information go to foodbankmoc.org.
The Atlantic Club of Manasquan will be accepting donations of frozen turkeys on Wednesday.