Dropping Out and Trading Up
Some random thoughts and notes on a chilly Wednesday.
Less than a month before the start of the Winter Olympics NBC has lost one of its biggest story lines.  Skier Lindsay Vonn has not recovered from a knee injury which will require surgery and keep her away from Russia.  Vonn won a downhill gold medal four years ago and with her looks and celebrity boyfriend Tiger Woods was expected to be one of the stars of Sochi.
So I've been hearing, reading and watching a lot about the Super Bowl and the impact it's expected to have on New Jersey.  I don't know about you but I still feel like New York is really the host city and outside of MetLife Stadium and Newark Airport nobody really views New Jersey as playing a large part here.  Maybe that's just my inferiority complex about living in the Garden State.
Most of you probably have little interest in girl's high school basketball so if I told you that Tuesday St. Rose beat Point Pleasant Beach 57-25 that would mean really nothing to you.  However it's interesting only because it was the first game Point Beach played without both Katelynn Flaherty and Marina Mabry, who transferred out of the school over the holiday break.  Those two players averaged a combined 54 points a game last season and led the Beach to a Group 1 state championship and many expected a repeat performance this winter.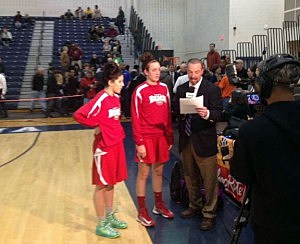 However with Flaherty now at Metuchen and Mabry back where she started at Manasquan victories will be hard to come by for the Garnett Gulls, who trailed 27-0 after the first quarter yesterday.  Transferring from one school to another for athletic purposes has become a regular thing in New Jersey and quite honestly will continue because nobody seems to be willing to do anything about it.  Another example that TEAM usually takes a back seat to ME when push comes to shove.
A boy's basketball player to watch this season is Chris Iapicco of Lacey High School.  He was the leading scorer in the WOBM Christmas Classic and earned a spot on the 2nd All-Tournament team. Last night the junior center scored 17 of his game-high 34 points in the fourth quarter and overtime to lead the Lions past Toms River East 66-63.