A Major Victory For Brick Township Democrats
Election Night 2013 is in the history books. There were several big races to watch out for aside from the Governor's seat.  In Brick Township, it was a battle over the Mayor and Council seats held for years by the Republicans.  That is, until last night.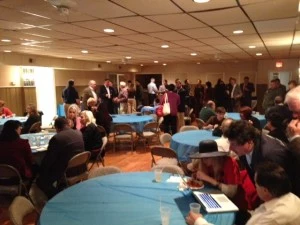 When Democrat Councilman John Ducey walked inside the door at the Knights of Columbus Hall on Cedarbridge Avenue, he was met with applause, cheers and even the County Democratic Chairman cheering "it was a sweep."  This as Ducey became Mayor-Elect Ducey and his three Council running mates got voted in.
Voters picked Ducey over Republican challenger Joseph Sangiovanni.  They were both vying for the spot that was virtually vacated by Mayor Stephen Acropolis, who held the post since 2007. It was earlier this year when Acropolis announced to the media and residents in the community, that he would not be seeking another term.  Acropolis has served the last six years through several major issues including the 2 percent tax cap, issues with the Department of Public Works, union contracts and of course, Superstorm Sandy.  It was the latter that helped shape his decision.  He would rather devote his time to helping the Sandy recovery and concentrating on his full time position at the MUA.
But how did Ducey and company do it?  What was the secret for unseating the Republican's inside a virtual GOP stronghold?  Ducey went on the air live on WOBM right as he was officially announced as the winner.  He believes the issues over taxes was a major point plus the negative campaign his opponent tried to run.  Ducey adds "remember, Sangionvanni went bankrupt 3 times in 6 years. That's far from being fiscally responsible.  Also, he was part of the team that threatened basic services in the commmunity.  Brick voters made the right choice."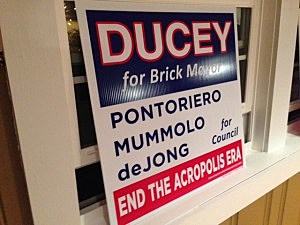 Ducey's running mates, Marianna Pontoriero, Paul Mummolo, and Heather deJong also beat out Republican challengers Domenick Brando, and John Ciocco and Victoria Chadwick.
During the coverage last night, we spoke to a man named Richard Gross, a longtime Brick resident and Ducey supporter.  He says he saw a major shift during the campaign.  He explains "I had met several staunch Republicans who have changed their tune just from this election. They don't like Christie and they didn't like Acropolis and they wouldn't like Sangiovanni. They made the right choice with Ducey."
Democratic Chairman Wyatt Earp was smiling from ear to ear.  He tells us "this is a great win for the County and a very important one.  The issues were important and the voters spoke.  We couldn't be happier."
Although Brick came out on top, the Democrats basically lost every other race in Ocean County.  Vice Chair Marta Harrison tells us "this won't stop us from coming back stronger next year.  We will identify a community with a governing issue and go after that to try and fix the problems."
Subscribe to Beach Radio on